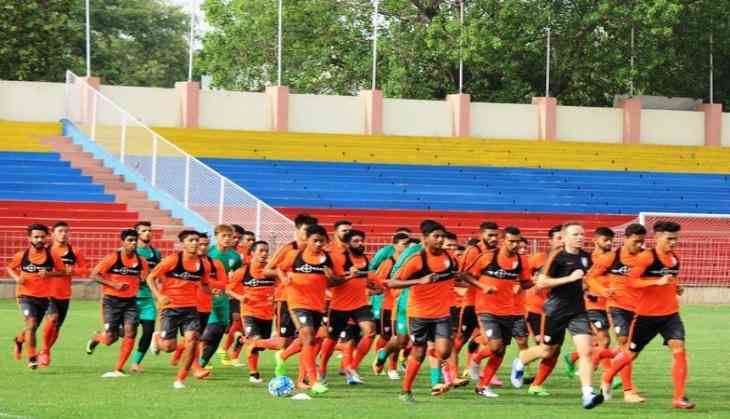 Even as all eyes were on Indian football team captain Sandesh Jhingan on the dais to lift the Tri-nation Football series, Jhingan preferred to walk all the way to the corner, pull out his arm band and wrapped it on Subrata Paul's arm.
India were held to a 1-1 draw against St. Kitts & Nevis and were crowned champions at the Mumbai Football Arena last night.
The message was clear. He felt Subrata was the 'Captain' and gestured him to lift the winner's trophy.
The 'Spiderman' was reluctant, but Jhingan persuaded and eventually pulled him to the centre, allowing him to take centre stage.
Jhingan stated that there was "no way he could lift the trophy with Subrata standing next" to him.
"I was a kid when I had watched India winning the Nehru Cup in which Subrata-bhai was the star in that tournament. I was cheering for him and I respect him a lot. In fact, we all respect him a lot. Hence, I couldn't just imagine myself standing ahead of him and picking up the trophy," he maintained.
"I think he deserves this. He is the Captain, Chhetri-bhai is the Captain. They are the leaders of the team. It was just my way of saying that I am still your fan," he went on.
Floored by the gesture, Subrata, sitting next atop an ice box, pulled Jhingan to his side and embraced him. The embrace lasted long, the embrace of the 'hero' embracing his fan.
Later, Subrata maintained that the sport is "all about the team."
"In football, you win as a team, lose as a team. No individual is above the sport," he quipped.
Meanwhile, Pritam Kotal felt that the "team is confident" ahead of the crucial clash against Macau.
"These two matches were a good preparation for us and helped gauge where we stand prior to our crucial clash against Macau," he quipped.
Midfield general Eugeneson Lyngdoh admitted that the team learnt "many a lesson" from the tri-series. "There is room for improvement and we need to work on that," he pronounced.
Goal scorer Jackichand Singh, however, wasn't much willing to read much into his magical strike. "It's a good feeling to score but it would have been sweeter had we managed to win it. The real challenge lies ahead and we are prepared for it," he mentioned.
India are scheduled to play against Macau in the AFC Asian Cup UAE 2019 Qualifiers on 5 September.
-ANI