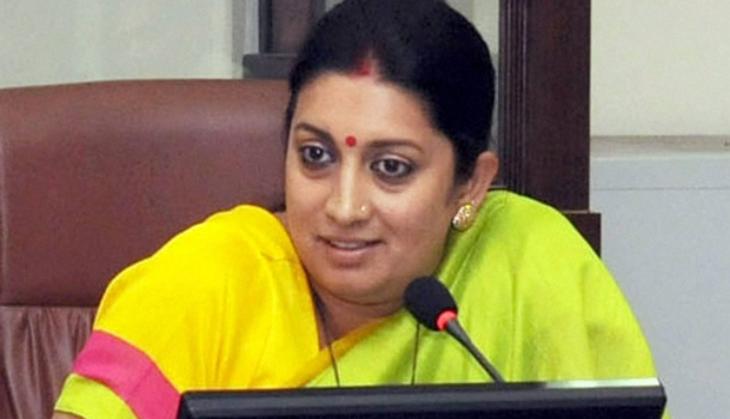 HRD minster Smriti Irani requested all parents to let their children select their own stream or field of study.
"This is my humble request to all parents. Please let your children select their own stream or field of study," said the minister during a digital launch of several projects under the Rashtriya Uchchatar Shiksha Abhiyan (RUSA).
"You'll find that many good students and toppers did not even take coaching," she added.
Also Read: Despite controversies, 5 reasons why Smriti Irani makes for a good education minister
The Ministry of Human Resource Development digitally launched several Rashtriya Uchchatar Shiksha Abhiyan (RUSA) projects across 10 states today. Projects worth Rs 8,115 crore have been approved under RUSA. Infrastructure grants are being provided to 115 universities and 1183 colleges.
Irani requested parents not to put unnecessary pressure on children. Her advice to parent was that they should support their children's decision.
Till now, 10 engineering and medical aspirants have committed suicide in coaching centre hub Kota, Rajasthan.
Seventeen-year-old IIT aspirant Kriti Tripathi, who committed suicide on 24 April, 2016, wrote in her suicide note, "And, please will the government of India HRD do something about these coaching institutes. They suck and should be shut down as soon as possible."
In the last few lines of her five-page suicide note, Kriti had daringly asked the MHRD to take action against coaching centres that put aspirants under undue pressure and stress.
Also Read: I couldn't clear JEE Mains and my parents won't talk to me'
Addressing the public and dignitaries from more than 10 states, the minister stated that the MHRD is working towards creating a digital system where students can access study material and entrance examination questions (IITPAL).
"RUSA aims at strengthening infrastructure and ensuring quality higher education in states. The idea is to ensure that quality education is given to every student in every state," said Irani.