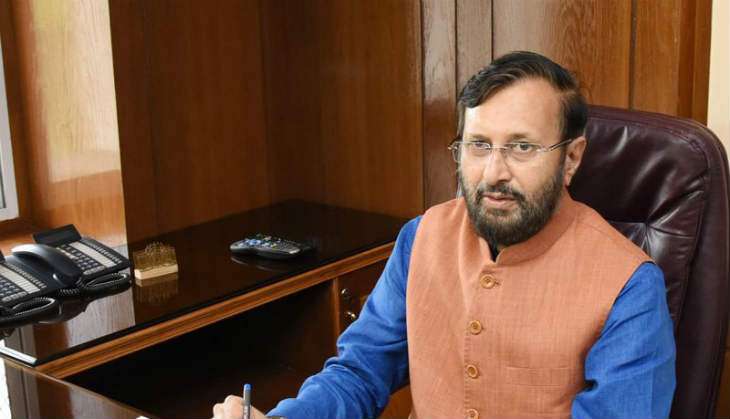 Union HRD minister Prakash Javadekar met several senior functionaries of the right wing Rashtriya Swayamsevak Sangh and its affiliated organisations on Wednesday to discuss the new education policy.
Javadekar was shifted from the ministry of environment and forests to HRD earlier this month.
In a closed door meeting at Gujarat Bhavan that lasted for nearly six hours, Javadekar spoke with RSS joint general secretary Krishna Gopal, BJP president Amit Shah, and RSS Akhil Bharatiya Sampark Pramukh Aniruddha Deshpande, as well as members of Vidya Bharati, Akhil Bharatiya Vidyarthi Parishad, Rashtriya Shaikshik Mahasangh, Bharatiya Shikshan Mandal, Sanskrit Bharati, Shiksha Bachao Andolan, Vigyan Bharati and Itihas Sankalan Yojana.
The meeting reportedly discussed measures to "instil nationalism, pride and ancient Indian values in modern education", sources told The Indian Express.
"The meeting was part of the government-organisational interface that was established after the Modi government came to power. Since Javadekar ji is new to the ministry, we updated him about the grassroot level challenges and the reforms required in the education sector. Social justice empowerment minister Thawar Chand Gehlot and tribal affairs minister Jual Oram also attended for some time as their ministries deal with education of tribals, reserved castes and backward classes," said an RSS functionary.
Another RSS source added: "Delegations of organisations affiliated to the RSS and working in the education sector will now meet Javadekar separately in the coming weeks and brief him about their suggestions related to education policy."