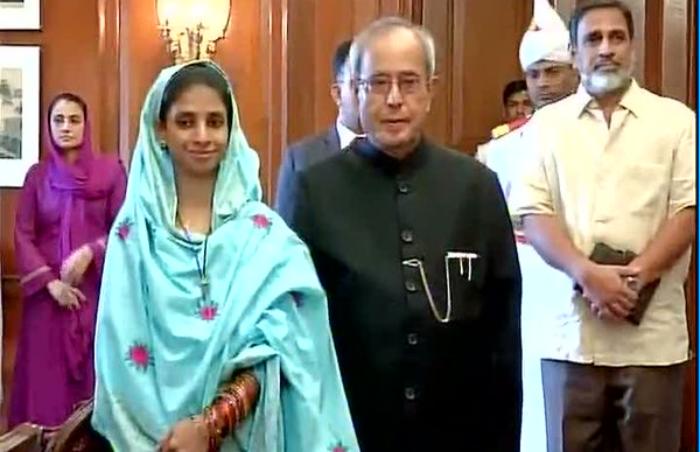 President Pranab Mukerjee met hearing and speech impaired girl, Geeta, at Rashtrapati Bhavan on 27 October. The girl had returned to India from Pakistan yesterday, on 26 October.
The members of the Edhi Foundation were also present.
Prime Minister Narendra Modi had also met Geeta, yesterday at his official 7, Race Course Road (RCR) residence here.
The PM had announced Rs 1-crore contribution for Edhi Foundation, the Pakistani organisation that took care of Geeta during her 15-year stay in the country.
"Welcome back home, Geeta. It is truly wonderful to have you back home. Was truly a delight to spend time with you today. All of India will take care of you," Prime Minister Modi had tweeted.
The Prime Minister also thanked the Edhi family and described them as "apostles of kindness and compassion" for taking care of Geeta.
Geeta had accidentally strayed into Pakistan at the age of 11 and was handed over to the Edhi Foundation by Police, who found her at Lahore railway station.
The Mahto family from a small village in Bihar was waiting to be reunited with Geeta but were disappointed after Geeta refused to recognize them as her family.
External Affairs Minister Sushma Swaraj said that Geeta would be handed over to the rightful family only after the DNA test.
-ANI