Two girls from a Delhi basti paint for a nuke free world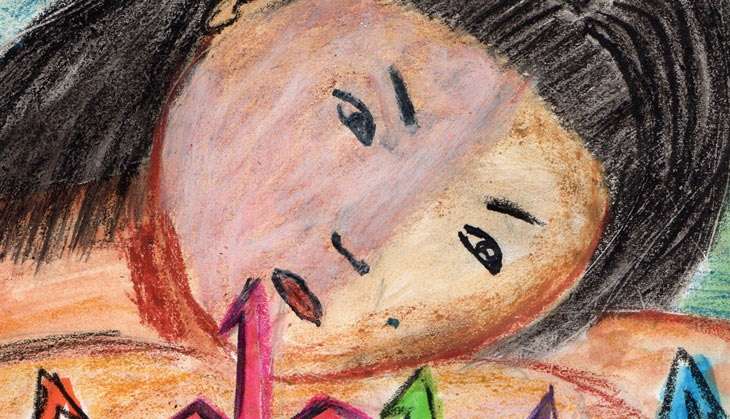 Adiba Saifi was just another 12-year-old from an underprivileged family in Okhla Patti when she joined the Aseem Asha Foundation to learn art and get a bit of help with her homework. Four years later, Adiba has near perfected the art of splashing paint on a canvas and is ready to display her work to mark the 71st anniversary of the Hiroshima-Nagasaki bombings.
In her paintings unfolds the story of Sadako Sasaki - a girl who was barely two years old when the atomic bomb was dropped on Hiroshima. While most of Sadako's neighbours died, she surprised everyone by surviving the odds.
Also read: Save the Children launches #EveryLastChild campaign on street children
Sadako lived a normal and healthy life till she hit Grade 7. And then she fell ill. She never recovered from the complications resulting from radiation poisoning - the "A-bomb disease", as it was referred to then.
Paper cranes
But Sadako wanted to live badly. She cried and cried. Then one day her best friend Chizuko brought some origami (folding paper) and told her about the great Japanese legend. The crane, a sacred bird in Japan, lives for a 100 years, and if a sick person folds 1,000 paper cranes, then that person would soon get well. After hearing this, Sadako decided to fold 1,000 cranes in the hope that she would be hale and hearty soon.
There are different versions of the number of cranes she folded from her hospital bed - even when she was in great pain. Some say she folded 600 cranes, some say she folded 1,000. Sadako passed away in 1955 - barely months after she fell sick.
Sadako's death saddened her friends. Her classmates decided to form a paper crane club to honour her. Word spread quickly and students from 3,100 schools from across nine countries donated to build a memorial in Sadako's honour. The memorial was inaugurated on 5 May, 1958, and is now known as the Children's Peace Monument - located a stone's throw from where the atomic bomb was dropped.
The Flying Birds
Of the 25 canvases that will be displayed on 9 August at the Japan Foundation, some have been painted by Adiba's cousin Farhana Saifi.
Of the five years that Farhana has been enrolled at Aseem Asha Foundation she has had to drop out at least 5 times because her conservative brothers do not want her to step out of the house and see the world. Or learn how to take on the world.
"It is not so much my parents who do not like my coming to the foundation - it's my brothers, they hate it. They want me to stay at home, do housework and get married," Farhana tells Catch.
Also read: This Dilliwallah uses visual art to familiarise Gen X with Faiz, Manto & Paash
With great difficulty Farhana managed to enroll at a college privately last month. Seeing their talent, the Aseem Asha Foundation has offered both the girls scholarships - but that's apparently not good enough for their families. Fortunately, Adiba's parents are not that fussy.
"My parents are not as difficult as Farhana's," says Adiba. In fact, the foundation's director Aseem Asha Usman called Adiba's parents just yesterday and made them understand the importance of higher education.
Usman has been helping both boys and girls learn new skills, trying to bring about social change through community media, visual & performing arts for the past eight years. Those who excel become members of Flying Birds of India - another initiative by Usman to help children from the marginalised groups.
From India to Japan
Adiba and Farhana learnt about Sadako when they had a Japanese visitor. They also learnt to make origami cranes along with other students.
"The event is being organised by Sadako Peace Campaign - we will display 1,000 origami cranes and 30 water colour paintings. Through this campaign we want to help spread peace and discourage violence in any form," says Farhana,
Both girls talk about Sadako and her friend Chizuko. "We read up on Sadako and the bombings before we decided to paint. Through our paintings we want to tell the world the importance of peace. The importance of a nuclear weapons free world," says Farhana.
This isn't the first time that the girls are exhibiting. Some time ago their work was displayed in Kolkata. The current series is breathtaking. It's telling of their insight.
"All my paintings have a woman. I want to show things from a woman's perspective," offers Farhana.
The girls were lucky to get this launchpad. We hope they continue with their good innings.