Save the Children launches #EveryLastChild campaign on street children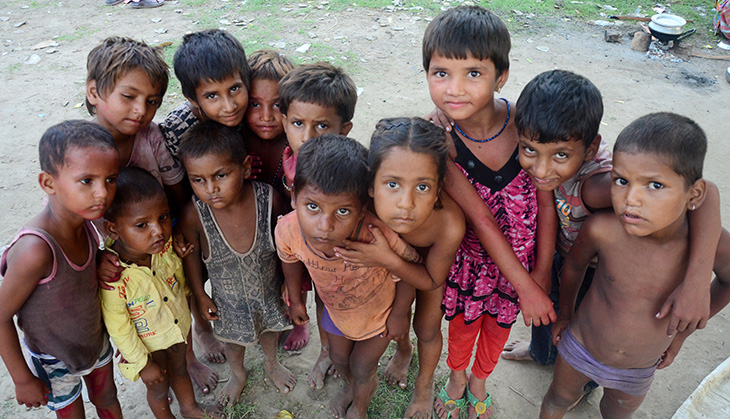 The challenge
There are about 1-4 crore street children in India
A large number of them face illiteracy, substance abuse and malnutrition
Save the Children has launched the Every Last Child campaign for their welfare
More in the story
What is the campaign all about?
How big is the problem?
Will it help?
Among the many impossible tasks one can do is count the exact number of children living on the streets in India. An estimate suggests it could be anywhere between 1 crore and 4 crore.
International NGO Save the Children launched its new global campaign, entitled 'Every Last Child' at an event held in the national capital. The campaign aims to improve the lives of two million of India's most excluded and vulnerable children, including 500,000 children currently living on the streets. It also released a report today titled: 'Life on the Street'.
Read: Development trickling down? Nope. India still suffers due to exclusion
The report is a qualitative sample survey of five cities: Lucknow, Mughalsarai, Kolkata-Howrah, Hyderabad and Patna.
According to their census, 84,563 children live without a shelter in these 5 cities. But even the census is just an estimate when it comes to street children. How do you tabulate children who never live in one place? Who have no place they call home? Who have no identity proof or address?
This is precisely what the campaign aims to address. It aims to first tabulate the extent of the problem of street children so that suitable policy solutions can be devised.
Speaking at the event, Venkaiah Naidu, Minister of Urban Development called this an important campaign saying, "Time has come to imbibe our age old values and ensure cities that are child friendly. Anything good for our children is good for our entire society. Millions of children still live on the street. Smart cities will have child friendly plans and implementation."
Here are some numbers from the report to wrap our heads around:
63% of street children are illiterate. Of all the children older than 3 years (who should ideally be receiving pre-school/ school education), a high proportion is currently not studying (68%) and needs to be brought into the school system. The proportion of children working but not studying is very high in all cities.
79% of the street children don't have any identification document.
35% street children in India are dealing with substance abuse
25 % have had to skip one meal a week in the previous week
12 % of children suffered from injuries in the last 6 months.
The reported extent of verbal, physical and emotional abuse was 32%, 19.4% and 19% respectively.
Caste clearly has a strong link with the children's occupation. For example, in Hyderabad, 35% of the rag-pickers were from the Mala community (scheduled castes) and 3/4th of the street-working children in Patna who are rag-pickers and who clean toilets are from the Scheduled Castes.
"Some of these numbers are surely under reported. The number of children who do substance abuse, who have been abused by their employers, or who are sexually abused are categories which was hard to get children to talk about given the short duration of the survey. These numbers could actually be significantly higher," says Prasann Thatte, research lead of the report from Save the Children.
The lure of the city
The report says street children have rarely known a fixed place of stay. In 4 out of 5 cities, the proportion of respondents who have not had a fixed place to stay since birth or for a considerably long time (one year or more) is very high (in the range of 33-53%).
Search for employment is a far bigger reason for being on the street than any other (it accounts for 55% of all responses). Slum displacement is a major reason (mentioned by over 20%) in Patna and Hyderabad. In these cities, over 91% children said they have shifted to a new place at least once in last year, which indicates how much the demolition of unauthorised colonies impacts children.
"Mobility is particularly high in Patna and Hyderabad," Thatte told Catch, explaining that the kids belong to broken families and have this dream of escaping their misery and making it big in the city. "Patna sees the highest number of street children out of the five cities because it is the only industrial hub of Bihar and the only go to option for a child on the run. In a state like Maharashtra there are more economic centres and more cities that will offer jobs," explains Thatte.
Also read- International day for abolition of slavery: Meet 4 heroes who fight it head on
What the report doesn't focus enough on is why the family structure is breaking down among India's poor. What causes the abuse, the domestic violence and the daily torture what makes children run away to the brutal streets?
"Urbanisation has to be blamed," explains Thatte. A growing inequality creates tension, angst and resentment and manifests itself on the social fabric of family relationships. Caste too has played an important role in creating a need to escape.
Policy solutions
A rapidly urbanising India requires continuous understanding of the issues related to street children to ensure that no child lives in abject poverty or at margins of society, says the report.
Street children are among the most vulnerable groups, having limited access to protection, education, healthcare and a host of human rights.
Read more: Now a mobile app to help combat child trafficking
They are visible all over the cities, near traffic signals, railway platforms, religious places, shopping areas, near bus and auto stands, under flyovers, bridges or on road pavements in lack of adequate shelter; and yet, the most visible street children are actually invisible in our census and policies, says the report.
"The first thing we need is identification. Then we can put our energies to guarantee protection, education and healthcare to them," says Thatte.
India is home to more than 444 million children below 18 years. That's 37% of India's total population. Of these nobody knows how many are street children. And where all they lie vulnerable, unprotected and open to abuse. With # Every Last Child, one can only hope that tabulating the data happens sooner than before.
Edited by Aditya Menon
More in Catch:
Debarring Sehajdharis from polls will strengthen Akali hold on SGPC
How we lost a slice of our natural history
Apple CEO Tim Cook explains why India is a 'bright spot'
In Amanullah Khan's death Kashmiri separatism lost its champion