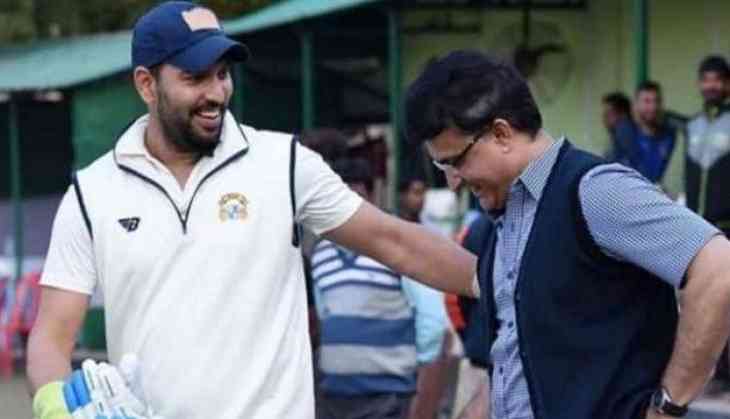 BCCI chief Sourav Ganguly may be busy with his responsibilities, but he makes sure to remain active on social media, time and again sharing pictures from his playing days or with his former teammates.
The BCCI President took to his official Instagram handle on Thursday to share an image from his Test debut at Lord's in 1996, and captioned it "fanatastic memories".
The former Indian skipper had famously knocked a hundred at the hallowed ground on debut. In the picture, Ganguly can be seen celebrating his ton, with Rahul Dravid in the background.
But one can also witness the watermark on the image and his former teammate Yuvraj Singh without further ado pointed it out and trolled him.
Also Read: Virat Kohli, Anushka Sharma enjoys quality time together ahead of Test series against New Zealand [Pics]
"Dada logo to hata lo! Your Bcci president now please be professional (sic)," he commented on the picture.
Indian batting legend Sachin Tendulkar also left a comment on Ganguly's picture.
"This reminds us of his great knock. Is there any other instance of Dada at Lords that one can think of?" he asked.
The question gave rise to answers that involved Yuvraj Singh as well, of course, as most fans commented in reference to the 2002 NatWest series final against England.
Chasing down 325, Sourav Ganguly had knocked a fifty to give India a good start before the batting order saw a collapse. Yuvraj Singh and Mohammed Kaif then created a brilliant stand to rescue the team.
India ended up winning the thriller, triggering passionate celebrations on the Lord's balcony. Ganguly took off his jersey and swung it over his head in joy, creating an image that will forever be engraved in cricketing history.
Also Read: Michael Clarke, wife Kyly announce their separation after 7 years of marriage