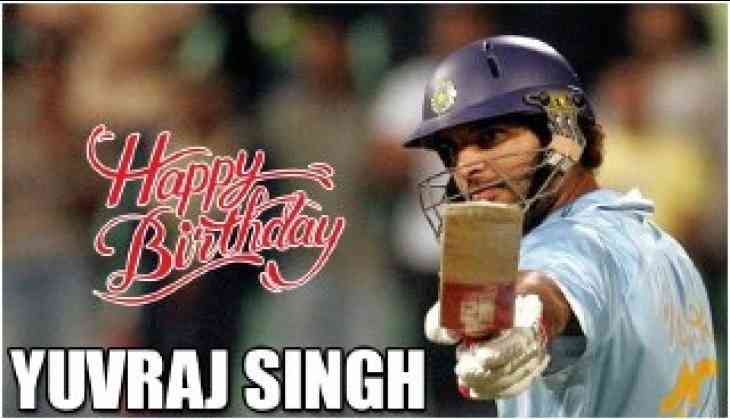 Former Indian cricketer Yuvraj Singh on Thursday (12th December) will celebrate his 38th birth anniversary. The left-handed batsman made his debut for India in 2000 during the ICC Knockout Trophy.
Yuvraj Singh has played in 304 ODIs for India and was awarded the man of the match in India's glory during the 2011 World Cup. Yuvraj cumulated 8701 runs at an average of 36.55, which includes 14 hundred and 42 fifties in the ODI format.
The all-rounder has also played 40 Tests, amassing 1,900 runs at an average of 33.92, with 3 centuries and 11 fifties. His highest Test score came against Pakistan in 2001 in Bangaluru, which is 169.
While everyone will be wishing the all-rounder on his birthday, here we have some lesser known interesting facts about Yuvraj Singh:
1) Yuvraj Singh has cricket rather than blood, flowing through his vains. His father Yograj Singh likewise played for the Indian team and was a fast-bowler who featured in 1 Test and 6 ODIs national side.
2) Yuvraj Singh as a child was more interested in roller skating then cricket, he also won the Nationals U-14 Roller Skating Championship. However his father discarded his National dimension decoration and asked him to focus on cricket.
3) Yuvraj Singh was not at all a decent cricketer during his learning days. His dad wanted him to become a national cricketer so he asked Navjot Singh Sidhu to prepare him. Yuvraj was so bad at batting that Navjot Singh Sidhu gave up on him.
4) The all-rounder began playing for Punjab U16s at the age of 13, in the year 1995. Yuvraj was elevated to the Punjab U19s and knocked 137 runs not-out against Himachal Pradesh U19s.
5) Yuvraj Singh's first break came at the time when he played against Bihar in U19s Cooch-Behar Trophy. In the match he scored 358 runs.
6) Yuvraj Singh is the second Indian cricketer after Sachin Tendulkar to speak to the area group of Yorkshire. He transformed into the primary Indian to play T20 cricket along with Mohammad Kaif and Virender Sehwag.
7) Yuvraj is the main player in the history of Indian cricket who has been a vital member of 3 effective World Cup title. In ICC U19 World Cup in 2000, he won the Player of the Series. In 2011 World Cup he again won the Player of the Series.
8) Yuvraj scored in excess of 300 runs and had taken 15 wickets in a solitary World Cup. He turned into the principal all-rounder to pull this off. Yuvraj is likewise the main Indian player to hit most sixes in Twenty20 matches.
9) In 2015 IPL Yuvraj Singh was bought by Delhi Daredevils with an offer worth 16 crores. It was the most elevated offered till the eleventh release of IPL.
10) This one may shock you the most however as a youthful child, Yuvraj acted in Punjabi movies. He completed two brief jobs as a tyke star in Mehndi Sajda Di and Putt Sardara. He even gave his voice to the Bollywood film Jumbo.
Also Read: Here's a look at most profitable and loss-making teams in IPL