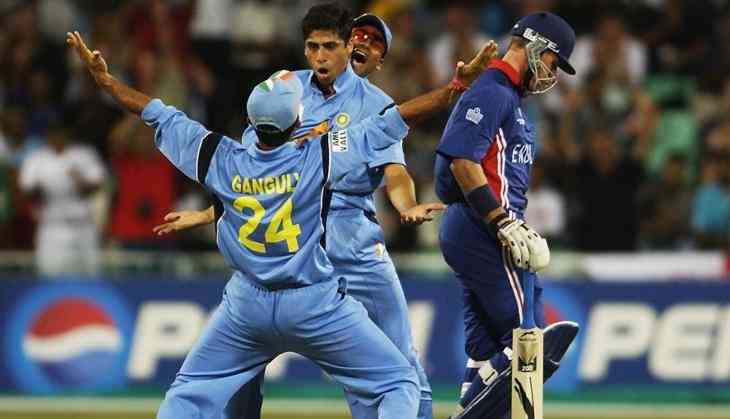 When Ashish Nehra told Sourav Ganguly 'Dada Aap Daro Mat, Main Hoon Na'
As you know that veteran cricketer Ashish Nehra has bid bye to his international cricket career of 18 years. The India vs New Zealand last T-20 match held on Wednesday was his last cricket match. The farewell match was held on his home ground at Feroz Shah Kotla. Ashish Nehra was honoured as everyone gave him a guard of honour for his services to the Indian cricket team.
Former cricketer Hemant Badani has shared a video on Facebook in which he shared some memories of Nehra while playing with him. Badani said that he remembers an incident when Nehra advised Sourav Ganguly not to get scared with the situation that too when Ganguly was captain.
Also Read - Virat Kohli's tribute to Yuvraj Singh's emotional letter; here is all you need to know about Ashish Nehra's
Recalling those memories Hemant Badani said in this video, it was an incident of 2004's match between India vs Pakistan in Karachi. India had set a target of 350 runs in front of Pakistan and Pakistan played very well in their innings. In the last over, Pakistan needed 9 to 10 runs, it was a critical situation for the whole team.
Also Read - Ashish Nehra set to endorse 'Patanjali Dantkranti'
Ganguly was even in tension that whom should he allow for the last over. That time Ashish Nehra was standing in the fine leg and he came to Sourav Ganguly. He told Sourav Ganguly 'Dada Mein Dalta Hu, Aap Daro Mat, Main Hoon Na, Main Aapko Match Jeetakar Dunga.'
Then Nehra came to bowl the last over and in the last over he took one wicket and only gave three runs.
Click here for the video of Hemant Badani in the tribute to Ashish Nehra