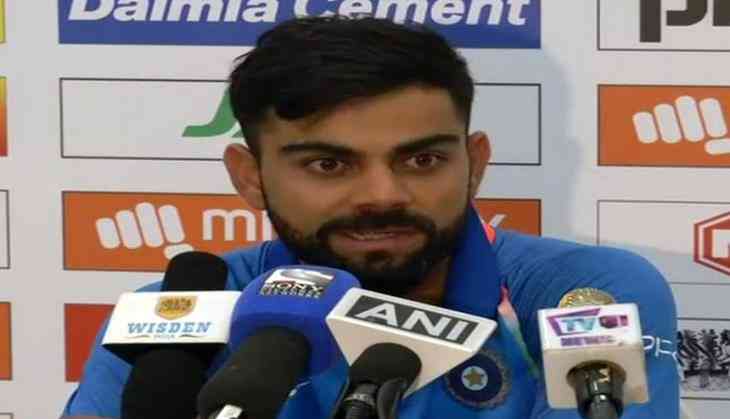 Kohli speaking at the post-match press conference
Indian skipper Virat Kohli has insisted that he wants the team to become more unpredictable before the 2019 ICC World Cup.
In the last few years, right from the previous World Cup in 2015, there has been a set-pattern of the Indian ODI set-up.
Be it setting targets or chasing, the approach has been on predictable lines with the same set of personnel doing the job day in and out.
However, when Kohli took over the limited-overs captaincy in a full-time capacity at the start of the year, he admitted that there were a few concerns with the Indian middle order and vouched for experimenting with the batting position of certain players so that burden from the shoulders of MS Dhoni and Yuvraj Singh can be lessened.
And in this endeavour, certain experiments were carried out during the recently concluded ODI series against Sri Lanka, which India won 5-0.
One of which was a reshuffle in the Indian batting order.
KL Rahul batted at No. 3 in one game, four in one and five in another. All-rounder Hardik Pandya played at No. 4 in one game as did Kedar Jadhav and Manish Pandey. Kohli dropped down to No. 5, in one match as part of the trials.
"Look we spoke about experimenting few guys going up and down the order. We have to try few things because we don't want the teams to prepare for a set Indian team," Kohli said in the post-match press conference after the fifth ODI in Colombo.
"Once we start playing like this and are confident in the roles that we are given, then we can be more unpredictable and the kind of talent we have in the side, if we can be unpredictable as well then that becomes a lethal combination."
"Teams will then find it difficult to set a pattern against us and we will always stay ahead of the game or at least try to," he added.
The changes haven't just been restricted to the batting order. Even the bowlers have been rotated, some of the regulars were left out and youngsters were tried out. Unlike the batting experiments, the changes made in the bowling department fared well as the likes of Axar Patel, Yuzvendra Chahal and Kuldeep Yadav led the charge in the absence of Ravindra Jadeja and Ravichandran Ashwin.
Jasprit Bumrah was a terrific spearhead for India in the ODIs while Bhuvneshwar Kumar, Pandya and Shardul Thakur also chipped in, making sure that the likes of Umesh Yadav and Mohammed Shami could savour their rest.
The Indian skipper further said that like batting, they don't want to be predictable in the bowling department as well and want to have an X-factor.
"We don't want to be predictable in any way. We want to have that X factor if possible in the bowling attack as well," he said.
-ANI