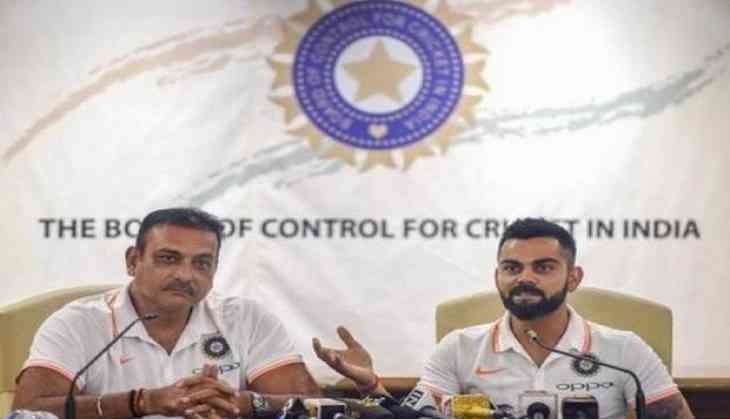 Kapil Dev believes that Indian captain Virat Kohli's opinion on Ravi Shashtri continuing as the next head coach "needs to be respected". Former Indian captain Kapil Dev heads three-member Cricket Advisory Committee (CAC) that has the responsibility to appoint the new head coach.
Recently, during the pre-departure press conference before the West Indies tour, Virat Kohli didn't hide that he would love to see current head coach Ravi Shastri get another term. Ravi Shashtri too was all praises for Kohli and the performance of the team. Kohli debunked the media reports suggesting a rift in the team. Virat Kohli-Ravi Shashtri spoke in a bold voice practically muzzling all suggestions that other players in the team and former cricketers like Sunil Gavaskar could have a point.
Not a level playing field
As the captain of the Indian cricket team, Virat Kohli is entitled to have his preferences and opinion on the selection of the head coach. But if Virat Kohli asserts his preference during a press conference, this amounts to huge advantage to Ravi Shastri as other contenders get bowled out even before being given a fair chance to explain what they bring to the table. Ideally, Virat Kohli should have expressed his preference in front of the CAC.
If Virat Kohli's opinion is important, then we should also be posing 'next head coach question' to the vice-captain and to other senior players in the team. Should this question-answer session happen in the full glare of the media?
It appears that some players are given free hand to dominate the discourse and fate of Indian cricket, while others like Rohit Sharma at best can "unfollow" others to give the message that all is not well in Indian cricket.
Why are they not being given an appropriate platform to raise their concerns?
Social media bouncer
Viral Kohli rules social media and his fans just love him for his cricketing prowess. Kohli can counter those who question his performance with social media post talking about "surreal experience" before leaving for Windies series. The question is: Should we ignore the performance question just because fans cheer for Virat Kohli? The answer is big No.
Sunil Gavaskar has raised a relevant question about the need to assess the performance of the captain before making him lead the team again.
Sadly, in a world, where commentators are not allowed to air their opinions, former players can't express themselves for the fear of inviting the ire of various organisations, there is practically no room for healthy debate.
The rules should be the same for all players. The opinion of Rohit Sharma and Sunil Gavaskar should also be respected. After all, cricket is a team game.
Also Read - Here's what Kapil Dev has to say about Virat Kohli and Rohit Sharma's rift