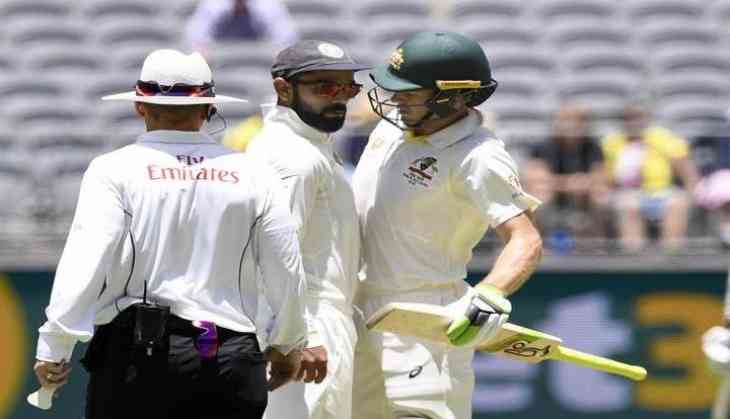 Virat Kohli is one of the best batsman of the game, hands down! But sometimes he just crosses all his limits on the field. Yesterday, after scoring a fabulous century he dropped his helmet and started signaling with his fingers about how he lets his bat do the talking, but thats not true. It didn't take too long for Kohli to do the talking with his mouth. Kohli who was once very critical of the Aussies about how they indulge their opponents into sledging is now one of the leading cricketer to do it himself.
Yesterday, when Uman Khawaja and Australian skipper Tim Paine was playing Virat Kohli left no stone unturned in sledging Paine. He was also caught in the stump mic saying, "if he messes it up, It's 2-0" referring to the series lead, to which Tim Paine replied, "you have got to bat first, big head".
Even today the two skippers locked horns with each other as the tension grew between them, umpire Chris Gaffaney had to step in to tell the captains to shut it. But Paine couldn't help himself when he said, "You're the one that lost it yesterday. Why are you trying to be cool today?" after that Gaffaney stepped in and said, "That's enough, that's enough. Come on, play the game. You guys are the captains." to which Paine replied, "we're just having a conversation. There's no swearing…Keep your cool Virat."
Kohli's response was hard to make out on microphones. A couple of balls later the two captains almost got physical when Virat Kohli walked in front of Paine while the latter was completing a run. Paine tried to evade his opponent as the duo bumped chests mid-pitch.
India and Australia are playing a four-match Test series in which India have a 1-0 lead where the won the first match in Adelaide by 31 runs. The second Test is still on where India is trailing by 261 runs and are 2 wickets down at 26. Virat Kohli and Murali Vijay is on the field after KL Rahul got out for a duck and continued his streak of poor performances. Pujara too couldn't keep his wicket intact and got out for 4 runs.
Virat Kohli and Tim Paine are back at it!

The two have locked horns again as tension builds on the 4th day of the 2nd Test.

📺 Watch LIVE on #FoxCricket &
📰 join our match centre: https://t.co/fLeuCrQjUF #AUSvIND pic.twitter.com/MFZlzpoIt5

— Fox Cricket (@FoxCricket) December 17, 2018