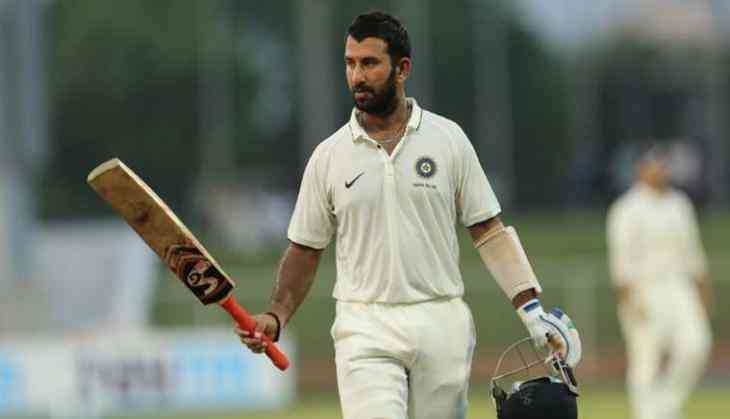 After playing a centurion knock of 123 runs in the ongoing first Test against Australia, India right-handed batsman Cheteshwar Pujara said that it was one of his top innings in Test cricket following the appreciation from his team-mates.
"It is one of my top innings in Test cricket, I could say top five. The way the team-mates appreciated it, they were saying it was one of the best. It was tough but I was set and I knew I could play my shots, especially when we lost the seventh wicket," Pujara said.
As the Indian top-order failed to acclimatise to the tough conditions at the Adelaide Oval, Pujara dug in deep and took India to 250 runs with the loss of nine wickets at stumps on day one.
Talking about the 62-run stand for the seventh wicket with Ravichandran Ashwin, Pujara said: "Myself and Ash (Ashwin) were having a good partnership but once we lost Ash, I thought I had to accelerate. I knew what shots I could play on that wicket because I had batted for two sessions, and I think it was tough it was considering the weather."
"It was quite hot, we are used to it in India but still I would say it is a decent total because there is enough turn. Ashwin will also come into play. It is not an easy wicket to bat on. To be honest, we should have batted better but they also bowled well in the first two sessions and I knew that I had to stay patient. It is the grass. The oddball is skidding on, and the oddball is holding a bit more from the grass. I would say it is kind of a two-paced pitch, and it is not easy to bat on," he added.
While Pujara admitted that the batting from India's end was underwhelming, he did not shy away from giving credit to the Australian bowlers. "The way they bowled, they bowled in the right areas. I also felt that our top order should have batted better, but they will learn from the mistakes and put up a better show in the second innings," he said.
"My leg got stuck into the pitch, and when I was trying to go for the second run, I had a little bit of a pull in my hamstring but I am going to consult the physio now," Pujara added while reflecting on his dismissal off a run-out on the final ball of the day.
Indian fast bowlers Mohammed Shami and Jasprit Bumrah will resume the visitor's innings on Day Two of the Test match.
-ANI