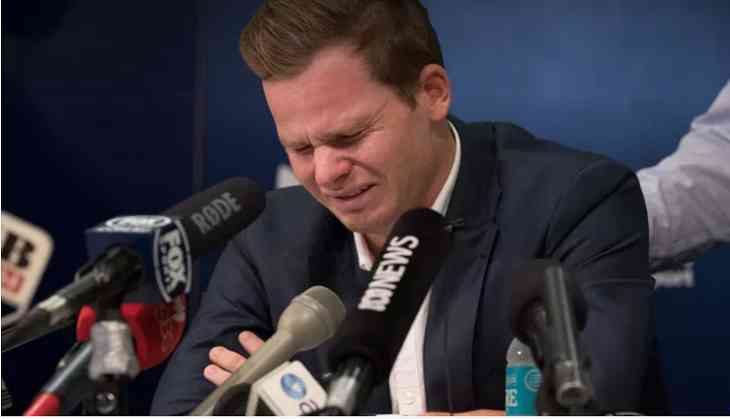 Banned Australian cricketer Steve Smith has opened about the "tough" and "dark" days that he endured after being suspended for 12 months for his involvement in the massive ball-tampering scandal during a Test series against South Africa in March this year.
The 29-year-old said that he has had his ups and downs and there were days when he did not want to get out of his bed. A close group of friends and family is what kept him going during the "difficult times", he added.
Admitting the "big mistake", the right-hand batsman said that he is trying to move on and improve as a person.
"I'm going OK. I've had tough days. I've had my ups and downs. But I've been really fortunate to have a close group of people around me to help me through those difficult times. There have been some dark days where I haven't wanted to get out of bed and things like that," Cricket.com.au quoted Smith, as saying.
"But I've had a close group of people around me to help me know that it's OK. I've made a mistake and it was a big mistake and I'm trying to move on from that and improve as a person," he added.
While talking about the performance of the Australian team in their recent series, the former skipper said that it was tough seeing his teammates struggling in a couple of games knowing that he could not help them out like he used to do in past. He, however, praised his side for putting a great show during their second Test at Perth against India where the hosts registered a 146-run victory. Smith also credited current Australian skipper Tim Paine for his exceptional leadership skill.
"It's been tough (watching) at times, particularly when the boys haven't played their best in a couple of games. It's been hard watching and knowing that I can't go out and help them," Smith said.
"But I was really proud of the way the boys played last week in Perth. I thought they were magnificent and I think Tim Paine's leadership has been exceptional since taking over as captain. He's obviously been faced with difficult circumstances, to begin with, but he's done a terrific job," he added.
After the end of Smith's suspension term, Australia's major assignments would be the 2019 World Cup and Ashes series. The cricketer hoped to get a chance to represent his country in these two crucial tournaments adding that he is ready to face all the hostile behaviour once he gets back to the international cricket.
"Hopefully (I will) get another opportunity to play for Australia and if that's in a World Cup and Ashes, so be it. No doubt the English crowd will be incredibly hostile and I'm ready for that if that was to happen. Nothing's for certain, I'll keep working hard and if I get that opportunity again that'll be great," Smith said.
"One thing I've always done pretty well is blocking out exterior noise and getting on with the job. No doubt the Barmy Army are loud and you can't block out as much but it's about staying in your own mind and not letting distractions take you over," he added.
Smith's 12 months suspension will be over at the end of next march. He, however, would not be eligible to take up the captaincy role in Australian cricket for two years from the time the penalty was levelled.
-ANI