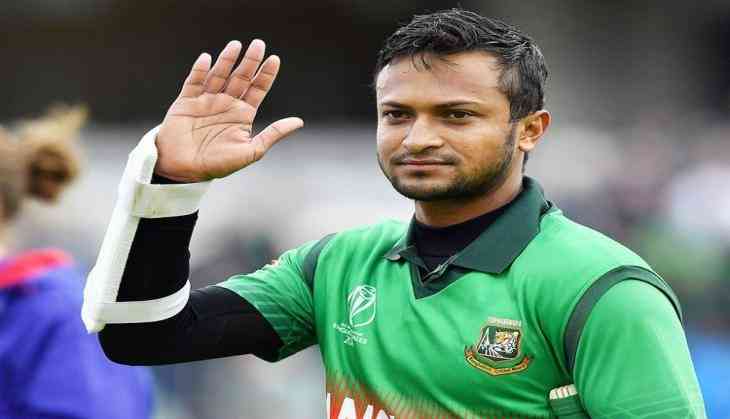 Bangladesh all-rounder Shakib Al Hasan was given a two years ban and one year suspension by the International Cricket Council (ICC) on Tuesday after he admitted several failures to report dishonest approach made by him.
The international cricket body made Shakib's WhatsApp chat with alleged bookie Deepak Agarwal public in its official website. As per the reports, Shakib Al Hasan asserted to the ICC's Anti-Corruption Unit that, "On 19 January 2018, he received a WhatsApp message from Mr Aggarwal congratulating him for being named man of the match in that day's game. Mr Aggarwal followed this message with a message saying 'do we work in this or I wait til the IPL'."
"The reference to 'work' in this message was a reference to him providing Inside Information to Mr Aggarwal. He did not report this contact from Mr Aggarwal to the ACU or any other anti-corruption authority," the report said further.
The chat between the Bangladesh cricketer and bookie Deepak Aggarwal took place during Bangladesh's series against Sri Lanka and Zimbabwe in January 2018.
On 23rd January, Deepak Aggarwal approached Shakib for the second time, asking for inside information: "Bro anything in this series?"
The reports suggests that the all-rounder was contacted by the same bookie during the Indian Premier League (IPL) ahead of the game against SunRisers Hyderabad and Kings XI Punjab in 2018.
"He received a WhatsApp message from Mr Aggarwal that day asking him whether a particular player was going to be playing in the game that day," the ICC said in its report.
BREAKING: Bangladesh captain and world No.1 ODI all-rounder Shakib Al Hasan has been banned for two years (one of those suspended), for failing to report corrupt approaches on numerous occasions.https://t.co/depJ2VHSne

— ICC (@ICC) October 29, 2019
Read the full media release here ➡️ https://t.co/oNrhhE33NH pic.twitter.com/2gFpBStSd3

— ICC (@ICC) October 29, 2019
💬 "We hope he will come back as a better and wiser cricketer and serve Bangladesh for many more years when his sanction will be over."

The @BCBtigers have responded to Shakib Al Hasan's ban for breaching the ICC Anti-Corruption Code.https://t.co/euHy9ET9Jk

— ICC (@ICC) October 29, 2019
However, Bangladesh Prime Minister Sheikh Hasina and the Bangladesh Cricket Board (BCB) have offered their support to Shakib Al Hasan, maintaining that his failure to report corrupt approaches was a mistake from which he will learn and come back as a wiser cricketer.
"It's clear that Shakib has made a mistake and he's realised that," Hasina was quoted as saying by bdnews24.com.
"There's nothing much the government can do about the ICC's decision but BCB will stand by him," she added.
Bangladesh is all set to commence their India tour with the three match T20Is, starting 3rd November.
AlsoRead: Indian cricket fans react as #DhoniRetires trends on Twitter