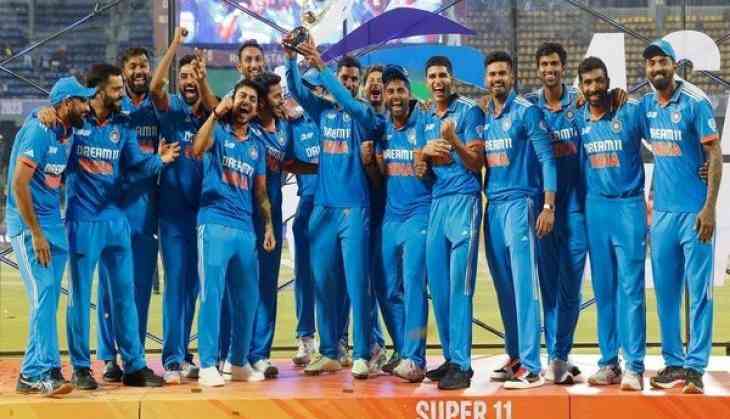 India's Dominant Victory in 8th Asia Cup Triumph
In the Asia Cup final, India displayed exceptional mental character, with Captain Rohit Sharma lauding the team's resilience and singling out Mohammed Siraj's remarkable bowling performance.
Gill and Kishan's Opening Brilliance
India's victory in the final was powered by the dynamic opening partnership between Shubman Gill and Ishan Kishan.
Captain's Perspective: Clinical Finish
During the post-match presentation, Rohit Sharma praised the team's clinical finish with the bat and the dedication of the seamers, a source of pride for the team.
"Yeah was a great performance. To come out and play like that in the final shows the mental character. Great start with the ball and a clinical finish with the bat. I was standing in the slips, and something we take pride in - our seamers have been working really hard. Very very clear in their mind," Rohit Sharma said in a post-match presentation.
Mohammed Siraj's Breakthrough Performance
Rohit Sharma emphasized the coming-of-age of star pacer Mohammed Siraj, who played a pivotal role in India's dominant performance with his sensational bowling.
India's 8th Asia Cup Triumph After Five Years
India secured their 8th Asia Cup title with a clinical display of skill, marking a significant victory after a five-year gap. Sharma expressed pride in the team's performance and credited Siraj's exceptional skills.
Preparing for the ODI World Cup
With newfound confidence, India is gearing up for the ODI World Cup and a three-match ODI series against Australia, demonstrating their readiness for the global stage.
The Asia Cup Summit Clash: Record-Breaking Performance
The Asia Cup final witnessed an astonishing performance by Mohammed Siraj, who bowled a dream spell, limiting Sri Lanka to a mere 50 runs in just 15.2 overs. India then chased down the target in a mere 37 balls without losing a wicket.
Record Victory and Asia Cup Dominance
India's victory in the Asia Cup final marked the largest margin of victory in terms of balls remaining in the innings, while simultaneously being Sri Lanka's biggest defeat. India secured their eighth Asia Cup title, solidifying their position as the most successful team in the tournament.