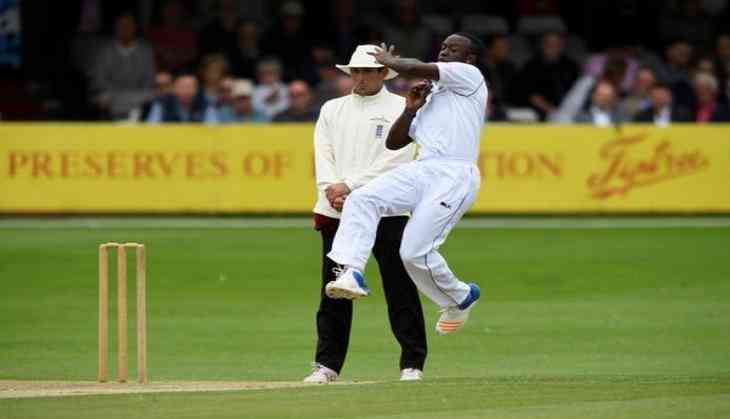 Right-arm pacer Kemar Roach has shed lights on the efforts he has been making to improve his game ahead of his probable Test return during the three-match series against England, beginning August 17 at Edgbaston.
Earlier this month, Roach, who played his last match for the Caribbean side in January 2016, had earned a recall into the 15-member Test squad for the England tour after displaying fine form in domestic competition.
The 29-year-old took a great step towards his likely return to the national side as he finished with brilliant figures of three for 17 on the second day of West Indies' three-day warm-up match against Essex.
"I'm looking to make the ball go both ways. I always had it in me, but I need to perfect it even more and I've been working hard on that. Today, it was perfect. The line and length was spot on. That's where I wanted to be. I want to keep working and building on that," ESPNcricinfo quoted Roach as saying.
Roach is the most experienced members of the current 15-man Test squad, having appeared in a total of 37 matches for West Indies since making his debut in 2009.
The right-arm pacer, who was dropped from the national side owing to poor form at the start of 2016, has since then made strides in the Professional Cricket League, West Indies' first-class tournament, by claiming 23 wickets at 16.17 for Barbados.
Admitting that Test cricket is the biggest form of cricket, Roach said he had worked really hard to make his way back to the squad and is now looking forward to put up a great performance if provided an opportunity.
"It's pretty tough to go there after almost two years off, to catch up with things. Test cricket is the biggest form of cricket, and I've been working hard and I want things to be right back here. So I'm going to go there, help the young guys in the team and put some good performances," he said.
Roach is not at all new to English conditions, having played in West Indies' previous tour of England in 2012 and taken eight wickets -in two out of three Tests he played for the country.
The Test Tour will also feature the first ever day-night Test in England from August 18 to 22 at Edgbaston.
Speaking positively about the format, Roach said that he had played a few games with the pink ball during the domestic season and that he believes that it is good for the game.
"I've played a couple of games with the pink ball back home during the domestic season. I think it's good for cricket. It does a bit more for a bowler's likes, so that's good for me. It's always a different feel, a different switch up. The atmosphere is going to be different; everything is going to be different. We're going to pull some more crowd. It's about time we switch things up a little bit," Roach explained.
Following the Test matches, the West Indies will have the limited-overs segment of the tour. The squads for the five ODIs and one-off T20 International will be named at a later date.
-ANI