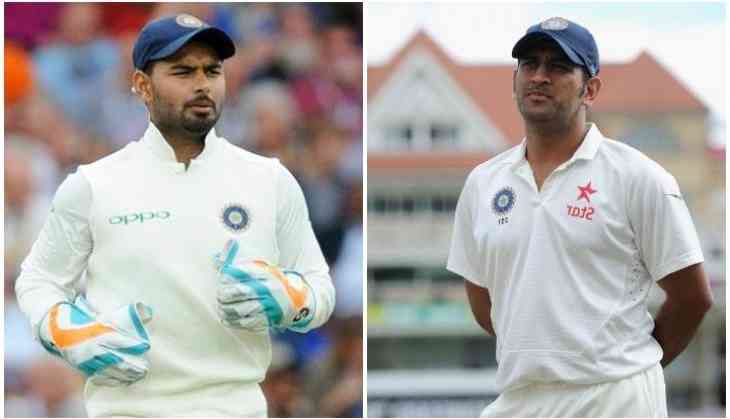 After winning the first Test match in Australia Indian wicket-keeper Rishabh Pant paid his tribute to former Test cricketer Mahendra Singh Dhoni. Pant described Dhoni as "the hero of the country" and said former wicket-keeper taught him to be patient and handle pressure situations.
Pant surpassed MS Dhoni to equal the record with England's Jack Russell and South Africa's AB de Villiers of 11 catches in a match, the most by an Indian in a Test match and the most in Australia. The India, Australia Test also saw a record breaking statistics where all 20 wickets in the second innings were catches.
Pant in an interview with Cricket Australia said, "I never thought of the record but it's good to take some catches and put it inside my kitty, It's good to have milestones, but I'm not thinking about that too much."
Also read: 'G*te mooh main aa gaye the', says Ravi Shastri on live TV and gets trolled on Twitter
Virat Kohli and company won the first Test match against Australia in Australia and made a record by becoming the first Indian team to win the first Test match down under. The Indian team won the match by 31 runs to lead the series by 1-0.
This was India's third closest Test win after winning a Test against Australia in Mumbai by 13 runs and then in Kolkata by 28 runs against England in 1972-73. India is the second Asian side to win the first Test of a series in Australia after Pakistan.
India made 250 in its first innings with Pujara making an amazing century of 123 runs until he was run-out by Pat Cummins. Australia were bowled out for 235 and were trailing behind by 15 runs. India in its second innings made 307 runs with Pujara and Rahane both making 71 and 70 runs respectively meanwhile Australia were bowled out for 291 runs with only Shaun Marsh reaching the half-century mark.
Also read: Virat Kohli reveals why Ishant Sharma was angry after winning the first Test match against Australia