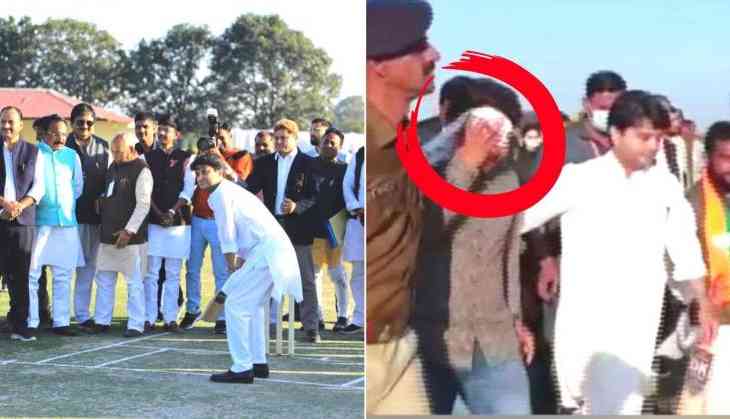 Union Minister Scindia taking injured person for treatment
Rewa (Madhya Pradesh): A BJP worker was injured after being hit by a ball from Union Minister Jyotiraditya Scindia's bat during a cricket match in Madhya Pradesh's Rewa on Wednesday. The BJP worker sustained injuries above his right eye after being hit by the ball.
He had come to attend the inauguration ceremony of a cricket stadium built by the Madhya Pradesh Cricket Association in Rewa.
The Union Minister, who had come to inaugurate the cricket stadium was playing a cricket match along with attendees and a ball off his bat hit the party worker. Immediately after the incident, Scindia rushed him to Sanjay Gandhi Hospital.
"During the inauguration ceremony of the cricket stadium, a match was going on and Jyotiraditya Scindia was batting. Suddenly a ball from his bat hit the right eye of a man, also a BJP worker," Alakh Prakash, Chief Medical Officer, Sanjay Gandhi Hospital said. However, the condition of the BJP worker is fine and is discharged from the hospital, the official informed.
(ANI)