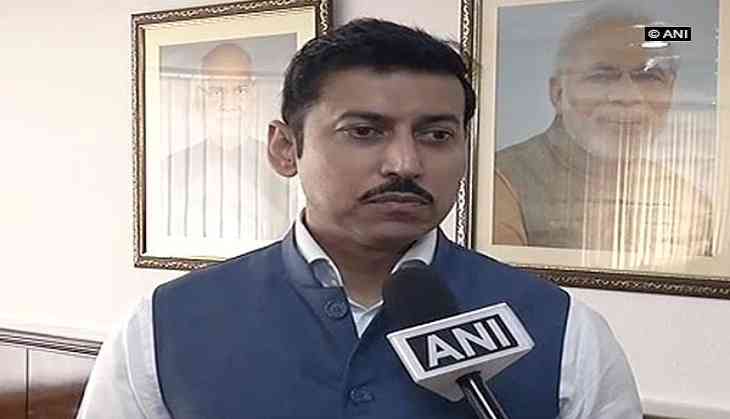 Condemning the attack on the Australian cricket team bus in Guwahati last night, Union Sports Minister Rajyavardhar Rathore on 11 October insisted that India was still one of the most gracious hosts in world.
A rock was allegedly thrown at the Australian team bus as they returned to the team hotel from the Barsapara Cricket Stadium following their eight-wicket win in the second T20I of the three-match series in Guwahati.
However, Rathore said that the cricket team was satisfied with the safety and security arrangements made by the state.
"The stone-throwing incident that has happened yesterday night in Guwahati, I have had a word with Chief Minister Sarbananda Sonowal. The safety and security of all sports teams that come to India is of great importance to us. Even the cricket team is very satisfied with the safety and security arrangements made by the state. FIFA has complimented the security arrangements by the state," the sports minister told ANI.
Rathore, who replaced Vijay Goel as the sports minister earlier this year, said he was absolutely concerned about what had happened with the Australian team, while adding that the safety and the security measures were absolutely in place.
"Yesterday, at 11 o'clock, the bus was being escorted by the police and a stone was thrown on the bus. Even those people who have thrown a stone, I think they are now under arrest. We are absolutely concerned and are one of the most gracious hosts in the world. We all love sports, irrespective of which team is winning. We are concerned and we are all protective. The safety and security measures are in place," he added.
Earlier in the day, Assam Chief Minister Sarbananda Sonowal directed state's Chief Secretary V.K. Pipersenia to initiate an inquiry into the matter.
Sonowal also called on Director General of Police (DGP) Mukesh Sahay to nab the culprits.
Australian opener Aaron Finch had tweeted a picture of a broken window saying, "Pretty scary having a rock thrown through the team bus window on the way back to the hotel!!"
The rock, believed to be roughly the size of a cricket ball, was thrown at a window on the right-hand side of the bus, while it was returning from the stadium.
It should be noted that no injuries were caused to any of the players or the support staff.
-ANI