Rohan Raj
| Updated on: 13 February 2017, 3:32 IST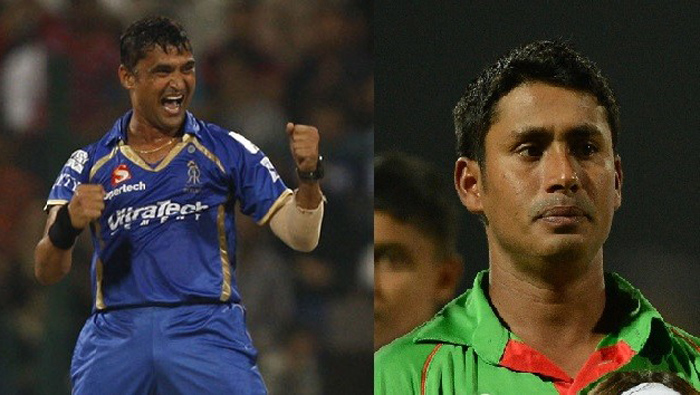 Rajasthan Royals spinner Pravin Tambe seems to have invited some trouble after playing in a private T20 tournament in the USA alongside Mohammad Ashraful who is currently serving a five-year ban by the Bangladesh Cricket Board for his involvement in match-fixing during the 2013 Bangladesh Premier League.
The 43-year-old cricketer had not sought permission from the Mumbai Cricket Association (MCA) to participate in the tournament. According to a report in ESPNCricinfo, Tambe said he did not know that the Bangladesh cricketer was involved in the tournament until he took the field.
Tambe, who does not have a BCCI contract, was subjected to obtain a clearance from the MCA but the joint-secretary of the cricket association, PV Shetty, revealed that he did not apply for a no-objection certificate.
Apart from Tambe, members of the Bangladesh national team including Elias Sunny and Nadif Chowdhury can also face action for their participation in the tournament alongside the tainted cricketer. Tambe was in the US from 23 July to 31 July to meet his friends. He played alongside Ashraful on 27 July and claimed that he was not aware that it was an official tournament.
"I had no idea it was an official tournament. I had just gone there to visit my friends in the US for a week of holiday and I was enjoying. I did not even have a kit with me. I was told it was a practice match. When I went to the ground I realised it was Twenty20 match.
"Till I went into the ground and stood at my fielding position I had no clue that he (Ashraful) was also playing. Even my friends did not know. They were told that some other friend had got him," he said.
Tambe played alongside tainted Ashraful
The third edition of Laurel Hill Cricket, a T20 tournament in New Jersey, had boasted Pravin Tambe and Royal Challengers Bangalore bowler Harshal Patel as attractions in the competition.
Though Patel didn't participate in any of the games following his involvement in a tournament in India, Tambe was seen playing alongside Mohammad Ashraful in the tournament. The duo was seen playing for South Gujarat CC Jrs against Bulls in one of the games on 27 July.
Tambe said that because he was not aware of it being an official tournament he did not ask the MCA for permission. He also said he had not been paid for his participation in the Laurel Hill Cricket tournament.
Other cricketers who participated in the tournament
Apart from Pravin Tambe and Bangladeshi cricketers, some of the other players who participated in the Michigan and Laurel Hill Cricket tournaments were Farveez Maharoof (Sri Lanka), Xavier Marshall (West Indies) and John Campbell (Jamaica); Fahad Babar, Akeem Dodson, Jasdeep Singh, Durale Forrest, George Adams and Muhammad Ghous (USA), Rizwan Cheema, Ruvindu Gunasekera, Navneet Dhaliwal, Satsimranjit Singh Dhindsa and Saad Bin Zafar (Canada).
Ashraful's ban from cricket
Former Bangladesh captain Mohammad Ashraful admitted to spot-fixing during the 2013 Bangladesh Premier League (BPL). The alleged fixing involves a match between the Dhaka Gladiators and the Chittagong Kings teams during the second edition of the BPL on 2 February 2013. The 28-year-old Ashraful was allegedly paid about $12,800 to lose the match, but the cheque he was given later bounced, according to the local media.
The Bangladesh Cricket Board reacted immediately by suspending him from all forms of the game temporarily, until the ICC's Anti-Corruption and Security Unit submitted its report on investigations into fixing. In June 2014, the Bangladesh Cricket Board found him guilty and banned him for eight years but reduced to five years (with two years suspended) later on.
Whistleblower in Hiken Shah case
Pravin Tambe was also pivotal in the infamous Hiken Shah case that saw the Mumbai cricketer suspended from all forms of cricket in July this year. Shah, Mumbai's Ranji Trophy player, was suspended by the BCCI for breaching the board's anti-corruption code.
Shah approached his Ranji teammate Tambe with an offer to fix matches in the Indian Premier League (IPL) ahead of the 2015 season. Tambe has been a key spinner for 2008 IPL champions Rajasthan Royals and it is believed that Shah wanted to take advantage of his position.
However, Tambe immediately reported the matter to the BCCI who instructed its Anti-Corruption Unit (ACU) to conduct an inquiry into the matter. After a detailed probe in the reported incident, the ACU found Shah guilty in the case.