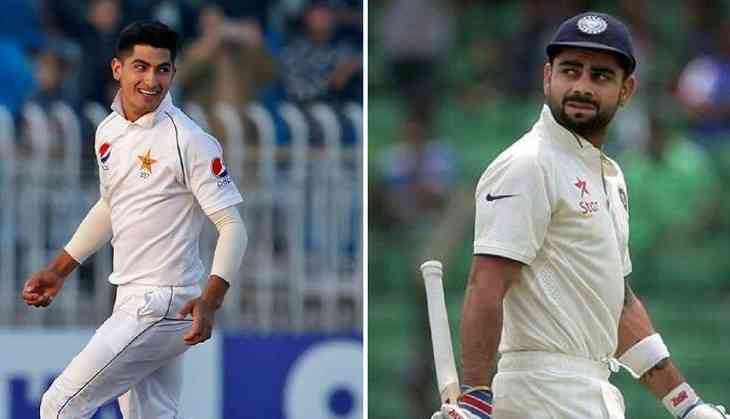 Indian skipper Virat Kohli who is often deemed as the best batsman in the world and the thought of bowling to him certainly makes bowlers very edgy. Pakistan's 17-year-old prodigy Naseem Shah, despite the fact that he is looking forward to taking on Kohli and stated that while he respects the Indian skipper, he does not fear him.
"I hope that I can bowl well against India when that chance comes by and won't let our fans down. As for Virat Kohli, I respect him but don't fear him," Naseem Shah said.
"It's always a challenge to bowl to the best, but that's where you have to raise your game. I look forward to playing against Virat Kohli and India whenever that chance comes, the youngster told PakPassion.net.
The 17-year-old became the youngest pacer in history to scalp five wickets in an innings and a hat-trick in successive Test against Sri Lanka in December last year and Bangladesh in February 2020.
Naseem who made it to the scene during Pakistan tour of Australia in 2019, is th youngest fast-bowler overall to scalp five wickets in a Test innings.
He achieved this record at the age of 16 years and 307 days against Sri Lanka in Karachi in 2019.
In recent times the Indian skipper has taken his batting to whole another level. The 31-year-old has shattered records at will in the past two years however one person who is always been hot on his heels is Steve Smith.
While many have acknowledged that Kohli is head and shoulders above the rest when it comes to limited over cricket, some feel that Smith is better when it comes to red ball cricket.
According to the current rankings, Steve Smith leads the list in Test ranking with the Indian skipper just one spot below him. In the ODI rankings, Kohli sit comfortably at the top.
Also Read: Irfan Pathan recalls sledging episode with Shoaib Akhtar during 2006 Test against Pakistan