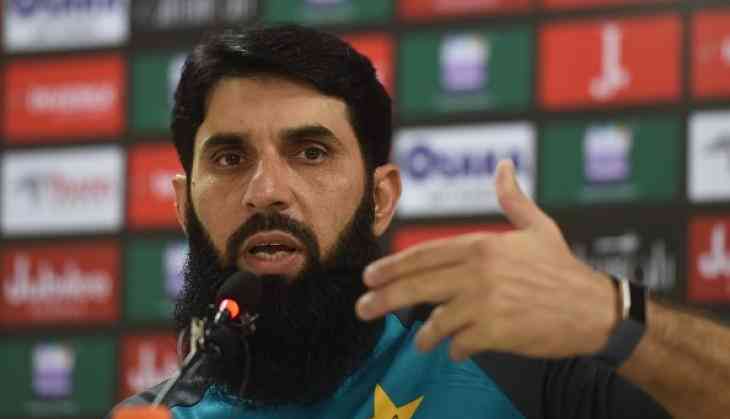 After months of commotion the Sri Lankan cricket team have finally reached Pakistan to play some cricket. Ironically it was these two teams that had played the last ODI match at the National Stadium in Karachi in January 2009.
Head coach Misbah-ul-Haq featured in that last ODI on Pakistan soil and now ten years later he will commence his second innings in International level as the head coach and chief selector of Pakistan cricket team. Misbah was an instantaneous hit in his first press conference. Just like the old days, Misbah's bearing at the press conference was that of a sports person who wasn't going to be intimidated by reporters firing questions as he dealt with them brilliantly.
AlsoRead:http://www.catchnews.com/cricket-news/yuvraj-singh-suggests-name-who-can-replace-virat-kohli-as-captain-174284.html
Nevertheless, one of the question was on Kashmir. Ever since the government of India has repealed Article 370 and declared them as union territories. There is a widespread tension between the arch-foes. The Pakistanis including the likes of Shahid Afridi and Javed Miandad have been criticising India's ruling. But Misbah came as a breath of fresh air.
On being asked if the Pakistan cricket team will do the same like the Indian team did after Pulwama attack by sporting army cap to honor the martyrs, Misbah-ul-Haq answered with maximal politeness and humility that 'The whole of Pakistan has sympathies with Kashmir- but let's talk cricket.'
AlsoRead:http://www.catchnews.com/cricket-news/ravi-shastri-explains-why-ravichandran-ashwin-is-no-longer-first-choice-in-test-cricket-174274.html
Misbah-ul-Haq "the whole of Pakistan has sympathies with Kashmir - but let's talk cricket" #PAKvSL #Cricket pic.twitter.com/lAMW0c9Itd

— Saj Sadiq (@Saj_PakPassion) September 26, 2019
Meantime, Pakistan will begin their home series against Sri Lanka today. The three match ODI series will be played at Karachi's National Stadium which will be followed by as much T20Is which will be played in Lahore, starting 7th October.