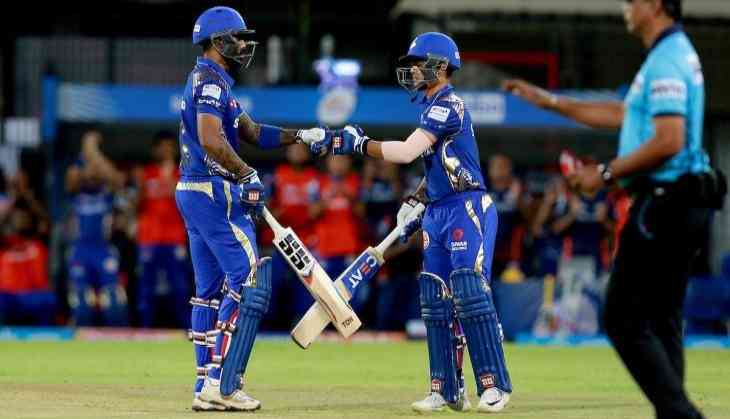 KXIP vs MI, IPL 2018: Rohit Sharma's 'Men in Blue' beats R Ashwin's kings by 6 wickets; read the complete scoreboard here
The 34th match between Ravichandran Ashwin's Kings XI Punjab and Ro-Hit Sharma's Mumbai Indian wow seriously a 'wow' match. The teams clashed for the very first time in the IPL this season. Mumbai Indians are one of the worst performers this IPL. Being the defending champions and studded with all the crucial players have finally taken the ball in their court by winning this much-needed match after defeating Punjab by 6 wickets.
The Kings XI Punjab after losing the toss came to bat first. KXIP's Lokesh Rahul and star batsman Chris Gayle came to open for the team. Unfortunately, Gayle was made to walk out just after chasing his half-century. Other than Gayle no batsmen including Yuvraj Singh stood for long. Where Yuvraj scored just 14 runs, Karun Nair, 23m Marcus Stonis scored 29 unbeaten. Mumbai Indians bowlers were faster and Fielders were quicker, in giving no rooms to Punjab's batsmen to hit.
Also read: RCB vs CSK: Quinton De Cock to miss tomorrow's match; here's why
Speaking about, Mumbai Indians, Suryakumar played his fantastic 57 in 42 and on a sad note was catch-out by, Rahul. MI's Krunal Pandya score 31 and skipper Sharma 24 unbeaten. Punjab's Mujeeb Ur Rahman took 2 wickets for Punjab. Well both the team played a neck-to-neck fight and in this war, bowlers gave their best. MI won the match by 6 wickets.
Here's complete score board of KXIP vs MI:
Kings XI Punjab Innings (Run Rate: 8.70)
Batsmen
Runs
Balls
SR
4s
6s
Lokesh Rahul
c JP Duminy b Mayank Markande
24
20
120.00
1
2
Chris Gayle
c Suryakumar Yadav b Ben Cutting
50
40
125.00
6
2
Yuvraj Singh
run out (Evin Lewis)
14
14
100.00
0
1
Karun Nair
c Hardik Pandya b Mitchell McClenaghan
23
12
191.66
1
2
Axar Patel
c Hardik Pandya b Jasprit Bumrah
13
12
108.33
0
1
Marcus Stoinis
NOT OUT
29
15
193.33
2
2
Mayank Agarwal
c Krunal Pandya b Hardik Pandya
11
7
157.14
0
1
Ravichandran Ashwin
NOT OUT
0
0
0.00
0
0
Extras
(nb 0, w 5, b 0, lb 5, pen 0)
10
Total
(6 wickets; 20 overs)
174
Bowler
O
R
W
Econ
Dots
Mitchell McClenaghan
4
31
1
7.75
12
Jasprit Bumrah
4
19
1
4.75
11
Hardik Pandya
4
44
1
11.00
8
Mayank Markande
3
29
1
9.66
6
JP Duminy
1
8
0
8.00
1
Ben Cutting
3
28
1
9.33
4
Krunal Pandya
1
10
0
10.00
1
Mumbai Indians Innings (Run Rate: 9.26)
Batsmen
Runs
Balls
SR
4s
6s
Suryakumar Yadav
c Lokesh Rahul b Marcus Stoinis
57
42
135.71
6
3
Evin Lewis
c Lokesh Rahul b Mujeeb Ur Rahman
10
13
76.92
0
0
Ishan Kishan
b Mujeeb Ur Rahman
25
19
131.57
0
3
Hardik Pandya
b Andrew Tye
23
13
176.92
2
1
Rohit Sharma
NOT OUT
24
15
160.00
1
2
Krunal Pandya
NOT OUT
31
12
258.33
4
2
Extras
(nb 0, w 2, b 0, lb 4, pen 0)
6
Total
(4 wickets; 19 overs)
176
Bowler
O
R
W
Econ
Dots
Ravichandran Ashwin
4
23
0
5.75
7
Ankit Rajpoot
3
31
0
10.33
8
Andrew Tye
4
35
1
8.75
8
Mujeeb Ur Rahman
4
37
2
9.25
11
Axar Patel
1
9
0
9.00
1
Marcus Stoinis
3
37
1
12.33
6