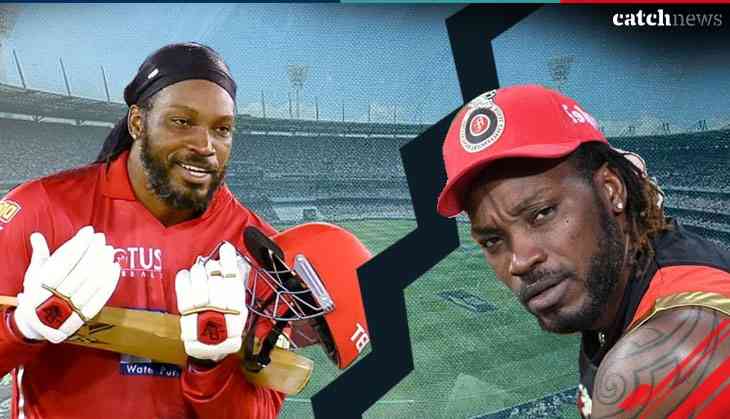 Gayle has been hitting the runs quite famously and quite explosively. He was bought by the Kings XI Punjab on the last day of the auction. He played for the RCB for seven long years but Royal Challengers Banglore decided to not retain him. Gayle's name came thrice while the IPL auction was going on but RCB did not show any interest whatsoever in retaining him. It was Kings XI Punjab who finally bought Gayle for his base price of 2 Crores.
However, Gayle has recently made an interesting announcement regarding his former RCB. He has told TOI in an interview that he was shocked after RCB did not retain him. He said that the decision surprised him but he was not sad after that. He also said that he received a call from RCB representatives who said that they wanted to retain him but it did not happen finally.
Gayle said in the interview that he was earlier informed about being retained by the RCB however it did not happen which came as a surprise to him. He further added that I have no one to blame and I don't intend to do that anyway.
His performance in the CPL and BPL has been phenomenal where he hit 485 and 376 runs respectively. Gayle has terrified the opposition teams with his destructive performances. He has also said that he is enjoying his time with Punjab very much. Gayle has said, I am very happy and he has been a positive change in my life and I have moved on. He has played 4 games till now and has hit 2 fifties and one century.
Also read: IPL 2018: Virat Kohli furious over RCB's fielding against KKR says 'Aise khele to kabhi nahi jeetenge'