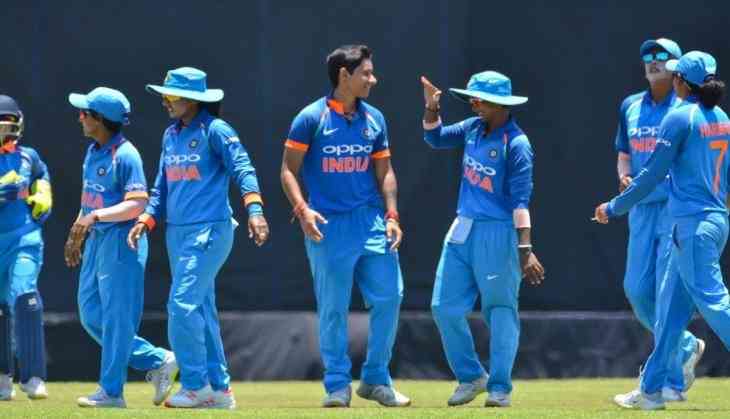 The Indian women's cricket team on Tuesday sounded optimistic of producing a good performance at the ICC World T20 to be held at the West Indies from November 9 to 24.
Explosive opener Smriti Mandhana, young Mumbai batswoman Jemimah Rodrigues and senior left-arm spinner Ekta Bisht hoped that the team, coached by Ramesh Powar, will do well in the Caribbean.
"I feel we can easily make it to the semi-finals (of the tournament), let's see what happens then," said Bisht at the Mumbai Mathan, a conclave organised by television news channel Aaj Tak.
India are placed in Group B along with Australia, New Zealand, Pakistan and Ireland in the 10-team event. The tournament kicks off with a match between India and New Zealand in Guyana.
Rodrigues, who will feature in her first World Cup, also felt that the team was looking settled.
"The team is looking good and we will reach the semi-finals (of the tournament), and after that lets see," said the Mumbai-based teenager.
Even seasoned Mandhana, who has been among runs of late, opined with her teammates.
"We will just take one match at a time. The first match is against New Zealand and we will concentrate on that. But the gut feeling says that we will do well (in the tournament)," said Mandhana, who is expected to play an important role in the tournament.
India won the One-Day and the T20 series in Sri Lanka and Mandhana and Rodrigues credited Powar for the change in the mindset of the team.
"No actually it was a mental switch (in the series against Sri Lanka). Technically the India batswomen are one of the best. But they weren't able to adjust mentally. I feel Ramesh Sir has a big hand. He instructed us to attack in the T20 series (against Sri Lanka)," said Mandhana, praising the new coach.
Powar took over the reins of the Indian women's team from Tushar Arothe.
Rodrigues also credited Powar for backing her in the Sri Lanka tour.
"The Sri Lanka tour was an important tour for me. Ramesh Sir backed me and he used to help me even in the nets," she said.
"As Smriti Di (Smriti Mandhana) said that Sir (Romesh Powar) did not change much with regard to technique, but he did change our mindset. He always tells us to dominate (the opposition) and that has made a huge impact in the team and the team is looking in good shape," she added.
-PTI