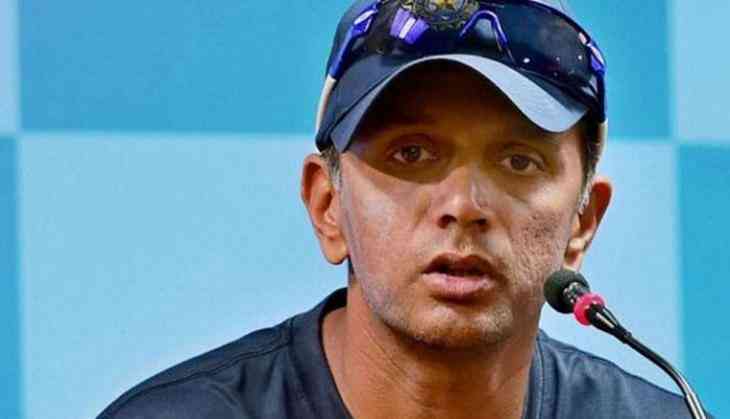 Both International Cricket Council (ICC) and Board of Control for Cricket in India (BCCI) came up against a lot of condemnation by Indian fans on Twitter on two different occasions, first and foremost, for the international cricket body mentioning former Indian cricketer Rahul Dravid as a left handed batsman on the Hall of Fame section on their website.
Secondly, for the BCCI for captioning a picture of Rahul Dravid and head coach Ravi Shastri as 'two greats of Indian cricket'. Rahul Dravid was seen at the men in blue's training session on Friday.
Rahul Dravid was the fifth Indian cricketer to be initiated into the ICC's Hall of Fame. Be that as it may, Dravid is listed as a left handed batsman on the ICC website, which led to a great many Indian fans getting irritated.
AlsoRead:http://www.catchnews.com/cricket-news/gautam-gambhir-takes-a-jibe-at-virat-kohli-his-efficiency-lies-behind-ms-dhoni-and-rohit-sharma-173327.html
##shame on you @ICC . After 16 years of International cricket, 13,288 test runs with 36 centuries and 63 half centuries, 10889 ODI runs with 12 centuries and 83 half centuries you did not even know that, Rahul Dravid is right hand Or Left hand batsman!!!!

— samir rout (@businessodisha) September 20, 2019
@ICC @ICCMediaComms ...ICC are u drunk ? Or high on what ?? When did Rahul Dravid bat left handed !! A world governing body can't get facts right of a legend ! #RahulDravid pic.twitter.com/62rXaGv0T7

— Deric Gladson (@dericgladson) September 20, 2019
One of the great is Rahul Dravid, unable to find the other one https://t.co/Jwe7mjyBM4

— PoRaPo | ಪೋರಪೋ (@urslikithbh) September 20, 2019
Rahul Dravid has featured in 164 Tests and 344 ODIs for the men in blue from 1996-2012 and cumulated 24,177 runs across the two formats.
AlsoRead:http://www.catchnews.com/cricket-news/shahid-afridi-holds-ipl-responsible-after-sri-lanks-boycotts-pakistan-tour-173332.html