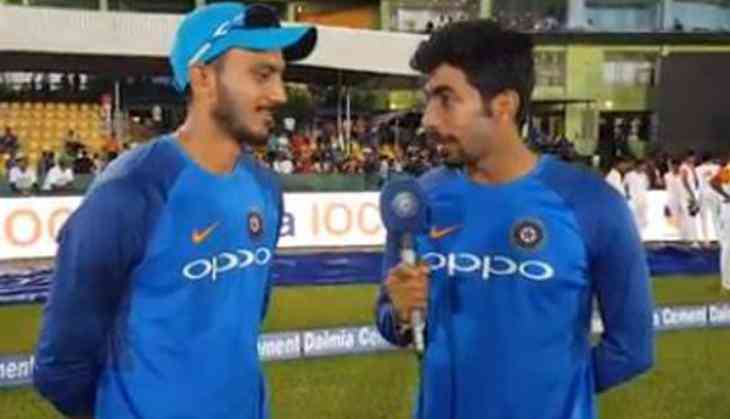 India will surely win 2019 World Cup: Axar Patel
Left-arm spinner Axar Patel, who was one of India's star performers in the Dambulla ODI, believes that the current Indian team is on a roll and exuded confidence that they will surely win the 2019 ICC World Cup slated to be held in England.
The visitors, who had clinched a clean sweep in the three-match Test series, continued their love affair with the Lankan island as they comfortably won the opening game of the five-match series by nine wickets at the Rangiri Dambulla International Stadium on Sunday.
Speaking in an interview with fellow team-mate Jasprit Bumrah, Patel said, "The great aspect about this team is that this team doesn't depend on an individual. Everyone is performing and hopefully, we will continue to perform well in the coming matches as well."
"I think there are all youngsters in the team. The average age of the team is around 26-27. We enjoy each other's success. The most important part of this team is that we jell up well alongside each other. And I am sure that this team will win the 2019 World Cup," the bcci.tv quoted him as saying.
Patel, who made a comeback to the Indian team after a six-month hiatus, grabbed a career-best haul of 3/34 in a seven-wicket show by spinners in the match.
Besides taking crucial wickets, the left-arm spinner also choked the flow of runs of the Sri Lankan team as they were bundled out for 216 runs inside 43 overs.
The Men in Blue then rode on the blistering innings from Shikhar Dhawan (132*) and skipper Virat Kohli (82*) before racing to 220 for one in just 28.5 overs.
Talking about his comeback, the 23-year-old said, "It's good to be back into the side. It's almost six-seven months. I wasn't thinking too much about the match. I was just thinking to stick to the basics and enjoy the game."
-ANI