Rohan Raj
| Updated on: 13 February 2017, 3:29 IST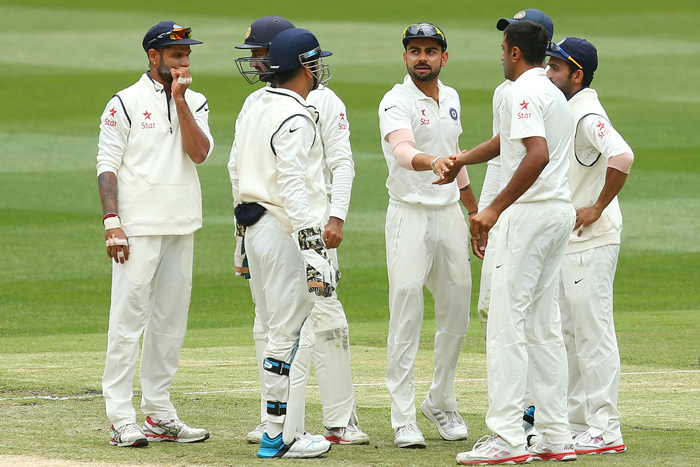 As India prepare to prove their mettle on foreign soil once again, Test skipper Virat Kohli has disclosed his plans and strategies to tackle Sri Lanka in the three-match Test series starting from 12 August in Galle.
The Indian Test captain expressed his confidence in Ravichandran Ashwin's batting abilities and said that there is no reason why the Tamil Nadu tweaker can't be the all-rounder that the Indian team is looking for in longer version.
"Ashwin, Bhuvi and Bhajji are all handy with the bat. Ashwin has a Test average of 40 and I cannot see that why he can't be that all-rounder for us. That's the challenge. Giving people goals and asking them to improve in certain aspects where the team requires," Kohli said ahead of three-Test series in Sri Lanka.
Kohli again stressed that he would like to play five bowlers in order to give the team a chance to take 20 wickets and also that three spinners could be a reality during the series.
"You need to play a stronger bowling side in order to win Test matches and it's more exciting and satisfying as well. Yes, that's a possibility (three spinners). The idea is to take 20 wickets. I strongly believe that you need to your best bowlers to play in order to give your team a chance to do that. The whole idea of playing five bowlers is that the top six have to take more responsibility," the skipper said.
Kohli believes that as a captain, he needs to speak to his pacers to make them feel comfortable about the field placings.
Execution of plans against Sri Lanka
Virat Kohli revealed that the Sri Lanka series will give him proper chance to execute certain plans. "It is an opportunity to have certain plans to prepare for a particular series. Actually judge ourselves on the basis of those three Test matches and analyse how many times we were able to do things actually we wanted to do. I think in one-off Test matches you do not get that opportunity."
"You prepare for a week or 10 days and that game gets over in five days and correct things and straight away go in to the second game. That is very exciting for me personally to play a full series as a captain and to be able to have the opportunity of executing certain things that we want to do as a team," said Kohli.
Concerns about Murali Vijay's fitness
The Indian Test skipper downplayed concerns about opener Murali Vijay's fitness ahead of the crucial Sri Lanka series. "I do not see any issues with Vijay's fitness. I think he is the guy who has been very solid for us at the top of the order. He has improved his game immensely in the last one and half years. He has given us very solid starts. Few niggles here and there happen in cricket and as long as it is not a serious injury, we are responsible enough to know that is match-fit before we get in to the first Test match," Kohli said.
"I think players deserve a bit of cooling period for them to recover from small niggles as they are very important part of the team. That is the case with Vijay. As far as I know, Vijay is almost hundred percent straightaway. I am sure he will be match-fit, in fact before the warm-up game that we play," Kohli added.
Competition at the top-order for India
Virat Kohli is happy that there is some competition at the top of the order with KL Rahul and Shikhar Dhawan, both in good form in longer format. "As far as the contest in the opening slot, it is the spot that is being contested very strongly. Rahul coming through Australia and batting really well when Shikhar was not performing consistently. Rahul stepped in beautifully. Now Shikhar got runs again and Vijay has got runs for us consistently," he revealed.
"So, it is just in the matter of shift in the balance as to who is playing well at that particular point of time. Problem of plenty is never bad, so might have even three guys playing well rather than two guys who are not playing well. I think this is the good problem we have in our side. I am not really worried about that," the skipper added.
Rohit Sharma's dismal form in Tests
The Indian skipper also defended Rohit Sharma's string of poor scores in Test matches and said that he is happy with Mumbaikar's batting slot. "We figured that Rohit is an impact player. In one day cricket, he bats up the order and we felt that two aspects are different when it comes to Test cricket. He was batting at six and that was the way of set up we had in one day cricket. As a batsmen, you want to bat in one position in both Test and ODI games and plan that way. That was the whole idea to bring the best of Rohit," he said.
"We felt that if he gets going he (Rohit) can take one session away from the opposition side. That could be the different in our winning Test matches. He had done well in Australia when he batted at three. I think he needs to get more opportunity there. Once he settles down in that spot, he will be the catalyst that we need in the middle-order who can keep the scoring rate going," Kohli added.
Virat Kohli also lavished praise on Rohit and said, "Rohit is so naturally gifted and once he is in he got massive scores for Mumbai. So we want give him that game time and ample opportunities to get at that big score and in quick time. He does not score slowly and that give the side more chance to bowl those extra 20-odd overs."
India's poor Test record overseas
Virat Kohli said that it is not correct to put too much pressure on the team looking at past records which states that India have never won a Test series in the island nation since 1993 when they beat the hosts 1-0 in a rain-marred three-Test series.
"It is something like adding more pressure on to the squad and on to yourself. I do not think you need to look in to the past as to what sort of records that have been set in the past 20 years or whatever time it is. When I played my first ODI series, we had no clue that we had not won there for 25 years but we ended up winning," the Indian skipper said.
"Eventually, I got to know about that later on. Had I known it before, I would not have been able to play at all. It is best not to know about few things and best not to think about them. Just go and try to execute what you are good at," Kohli added.
"If results follow or results go away it is good to create a bit of history but one just need to focus on the process as these things are far fetched may be after a month we will be able to analyse and sit down and talk about it. But, at this stage we are just looking in to prepare every day and going to take the game," he concluded.
On being aggressive against the opposition
While referring to his aggressive approach in the field, Virat Kohli said: "It is again an individual thing. I cannot expect a guy who is sort of mellow, talk much to take on an opponent and completely be out of place on the mental side of it. A captain needs to figure out guys, who can do that job for you and that guys will be in their own zone but still do the job for you."
"What I do personally in my cricket is that I remain pretty consistent because that is the way I have always played my cricket. I do not intent to change it. I do not see anything bad in it. Lot of people say lot of things about it. But, as long as it benefits the team and what we are doing on the field I find absolutely no need to change," Kohli added.