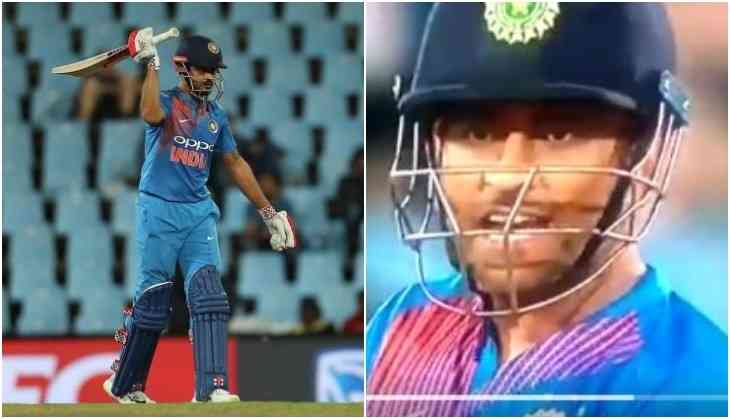 Ind vs SA: Did MS Dhoni really abused Manish Pandey? Here is the truth
During the second T20 match against South Africa, MS Dhoni said many things to Manish Pandey and people thought that MS Dhoni was abusing to Manish Pandey. While MS Dhoni was batting there was so much noise on the ground in which it was very difficult to heart out what actually Dhoni was saying to Pandey.
However, this video went viral on social media and people thought that MS Dhoni was abusing Manish Pandey. Reports started saying that Dhoni said - 'Oye Bh*** Ke Idhar Dekh Le, Udhar Kya Dekh Raha Hai'.
Dhoni say to m. Pandey after 1st ball of last over.. 😂😂😂😂 pic.twitter.com/pT2pGNFqyt

— Amit Bamel (@AmitBamel2) February 23, 2018
Now one another video has come out in which you can hear the exact words what Dhoni was trying to say to Manish Pandey. Now Dhoni fans are saying that he didn't abuse Pandey either he was saying 'Bhootni Ke' to Pandey.
Also Read - Ind vs SA: 'Hitman' Rohit Sharma becomes the hero of zeroes; made this shameful record in T20I
However, it is not clear that exactly Dhoni abused him or not but Dhoni fans are supporting him undoubtedly. This is to notice that the match was very interesting as India lost his 4 wickets around 90 runs and then Manish Pandey and MS Dhoni's brilliant knock helped the team to reach 188 runs.
Also Read - Ind vs SA: MS Dhoni abuses Manish Pandey; 5 times when 'cool' wicketkeeper lost his temper and made headlines
The Proteas got the target of 189 runs and they made it easy while batting against India. With this now the T20 series in on 1-1.