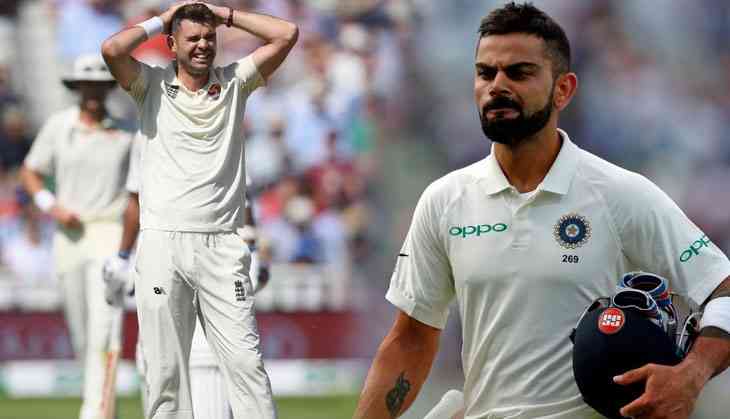 The nail biting match between India and England has come down to two statistics – India need 84 runs to win and England need 5 wickets to win.
The Indian skipper Virat Kohli stands in the way as the England look to take a crucial 1-0 lead in the five-match Test series at Edgbaston in Birmingham.
Virat Kohli Vs James Anderson:
As reported in Indian Express, the 36-year-old James Anderson cited that "We'll go to bed dreaming about getting Kohli out first thing," Anderson said at the press conference. "We need five wickets, simple as that, fairly quickly – otherwise, they'll get the runs."
Further he added that "We've just got to give it everything we've got in the morning for the first 15-20 overs – leave absolutely nothing out there. It's a really exciting place to be because you know we could do something special tomorrow by winning this. It's such a close Test match."
Test cricket is best:
"What's been great is the way the momentum has shifted, Test cricket at its best – the way we dominated the first two sessions of the match, then India wrestled back the momentum, then it was our job to go out and bowl well. To be a part of it is great, and tomorrow we've got a really good chance of winning the game," he said.
Also Read: IND Vs ENG,1st Test: Ravichandra Ashwin and Ishant Sharma's record will leave you in shock!