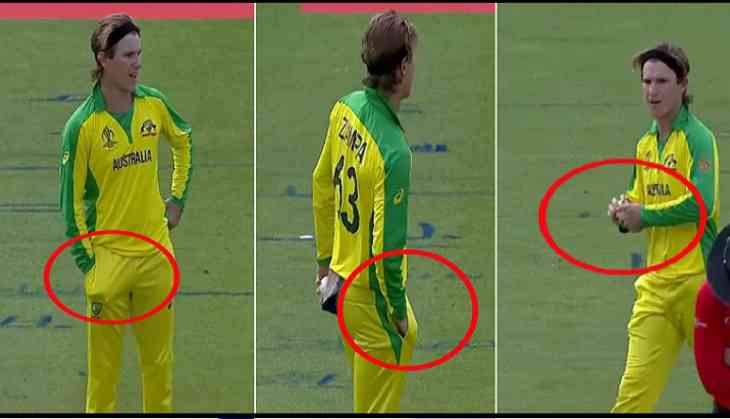 During the match between India and Australia at the Oval, where Australia were defeted by 36 runs. A suspicious picture of Adam Zampa taking an object out of his pocket in between balls had surfaced and were making rounds on social media.
Zampa's performance in the match was far from impressive, conceding 50 runs in just six overs as India put up 352/5 cerdit to Shikhar Dhawan, Rohit Sharma and Virat Kholi who were at their best. In reply, Australia fell short of their third successive victory despite Warner, Steve Smith and Alex Carey all scoring half century
Asked about the picture of Zampa, Aussie skipper Arron Finch said: 'I haven't seen the photos.'

'I know he has hand warmers in his pockets like every game and uses them,' added Finch.
On Australia's loss and wheather they will make any changes in their next game: 'We will look at everything. You assess conditions, we are off down to Taunton tomorrow, we will take a look at the surface there. You look for different combinations and balances all the time,' said Finch.
After Dhawan and Rohit Sharma's spectacular 127 runs opening partnership, Australia were automatically on the back foot. Virat Kohli kept the momentum going with his classy innings of 82 runs before Hardik Pandya and MS Dhoni took the total past 350. Australian batsmen tried their best to put the pressure on Indian bowlers but fell short of what would have been a record chase in the World Cup fixture.
'India got 120 off the last 10 overs, which is a lot and we didn't bowl our best stuff,' Finch said.
'When you've got some experienced and powerful guys who can come in and have time to bat before they have to go then it's tough to stop anyone.'
'Being a used surface didn't help, there wasn't a huge amount on offer with the new ball but we could have been a bit straighter, bowled a better length to dry it up a bit at times but it's tough because you want to get wickets early, especially with their batting line-up.'
'They have so many good players and they bat deep as well,' said Finch.
This was Australia first defeat in the tournament following their win over Afghanistan and West Indies.