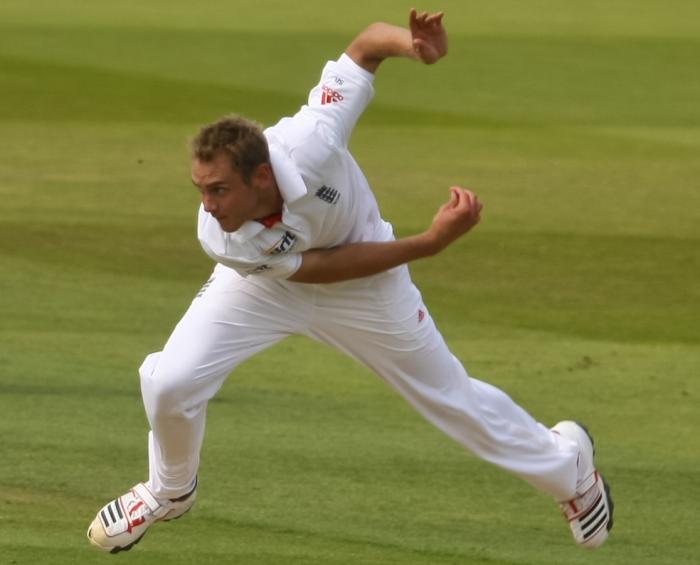 England spearhead Stuart Broad has become the number-one ranked bowler in the world in the recent ICC Player Rankings for Test Bowlers following his match winning performance in the Johannesburg Test against South Africa.
Broad had entered the Johannesburg Test in third position on 853 points but, after figures of two for 82 and six for 17, the 29-year-old earned 27 points to leapfrog Ravichandran Ashwin of India and South Africa's Dale Steyn into the top position. Broad now sits on 880 points and leads the India spinner by nine points.
Broad is the first England bowler since Steve Harmison to top the ranking. Harmison had reached the top in 2004 and stayed there for 120 days. Before Harmison, Ian Botham had achieved the number-one ranking in 1980.
Broad has gained four places after earning 40 points since arriving in South Africa as he has picked up 15 wickets in three Tests to date.
Stokes, Rabada improve rankings
Broad's team-mate Ben Stokes has also improved his rankings. He has gained 10 places in the bowling chart and is now in 33rd spot, having moved up two places to 36th in the batting table.
Stoke has also gained three places in the all-rounders' category to claim sixth position , just three points behind India's Ravindra Jadeja.
The only good news for South Africa is the movement of Kagiso Rabada. The fast bowler took five for 78 in the first innings, which means he has vaulted 28 places to 74th in the latest rankings.
Root back up to second place
In the ICC Player Rankings for Test Batsmen, England's Joe Root has reclaimed second position after scoring his ninth century in his 38th Test.
Root's 110 helped England to take a slender 10-run lead for which he has been rewarded with a jump of two places.
Root had last achieved second position after the first Test against Pakistan in Abu Dhabi in 2015, before reclaiming the top spot after the second Test in Dubai.
Root now trails number-one ranked Steve Smith by eight points and leads third-ranked Kane Williamson of New Zealand by two points.
South Africa's Dean Elgar and Jonny Bairstow have also made gains in the latest rankings. Both the batsmen have moved up two places each with Elgar now in 26th position and Bairstow joining Faf du Plessis in 30th spot.
With the series defeat, South Africa had also lost the position of top-ranked Test side to India.
-ANI