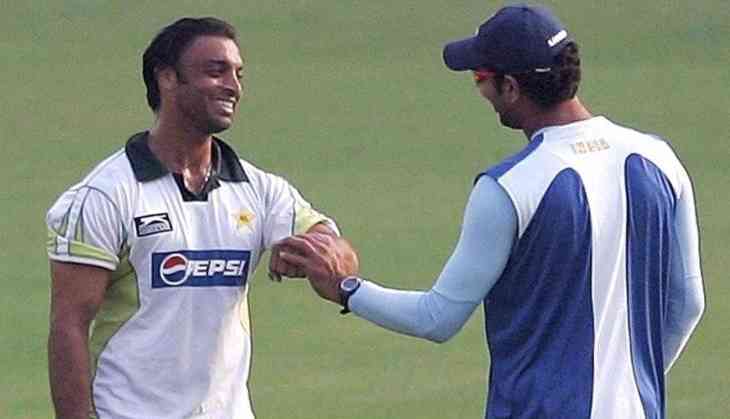 Pakistan fast-bowler Shoaib Akhtar everytime had a relationship which was built on love-hate with Indian cricketers . During his playing days, Shoaib Akhtar was always at odds with his counterparts.
Cricket fans remember the dissensions Akhtar had with Virender Sehwag and Harbhajan Singh while even getting Rahul Dravid irritated with his escapades. Following his retirement, the pacer worked a lot in India for cricket assignments and established a friendly relationship with many cricketers.
The 44-year-old recently reminisced about episodes where he wrestled with Indian cricketers Yuvraj Singh and Harbhajan. The pacer claimed that while wrestling jokingly he periodically ended up injuring his counterparts and at times his own teammates.
"I don't wrestle, it's my way of showing my affection to other people and I basically crossed the line. When I like someone, I throw them."
"I broke Yuvraj's back, have previously broken Shahid Afridi's rib by hugging him, and I made Abdul Razzaq stretch his hamstring a bit too much. So my way of loving people is a bit wild. It was just me being stupid in my younger days but I never realised my own power," he said.
Shoaib Akhtar is well known for giving voice to controversial statements. Earlier, Akhtar talked about the time when he was youngster who had just broken into the Pakistan side and was bowling to Sachin Tendulkar for the very first time during 1999 Kolkata Test.
"I heard Sachin was the god. I said this is a god? Iss ki khairiyat nahi. He didn't recognize me, and I didn't recognize him. He was in his own attitude and I was in my attitude. But I wanted to get him out on the first ball and that happened," Akhtar told Pakistani news channel ARY News.
Also Read: 'If it was Virat Kohli everyone would be talking, but as it's Babar' says Nasser Hussain