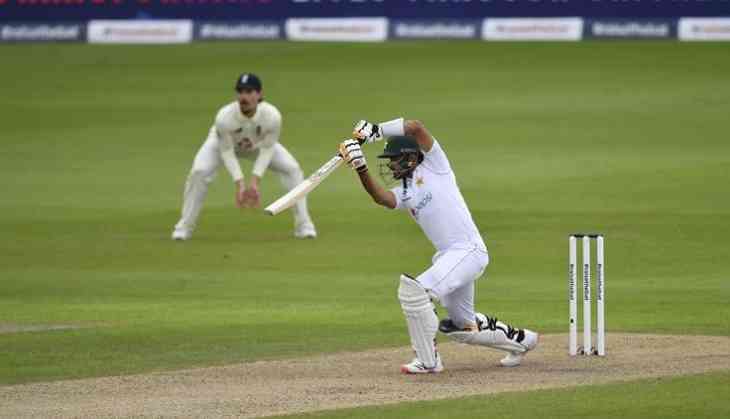 After playing just 49 overs on Day 1 of England vs Pakistan 1st Test match in Manchester, it was sufficient for Babar Azam to convince former England skipper Nasser Hussain that he is in the same league as Virat Kohli, Steve Smith and Kane Williamson.
After bad light forced an untimely halt to the match, Pakistan were 139/2, with Babar Azam still batting and Shah Masood not out on 46. The was Babar's fifth successive 50-plus score in as many Tests with his last five Test matches fetching three centuries.
Looking at the 25 year old play some astounding shots against the likes of James Anderson, Stuart Broad, Jofra Archer and Chris Woakes, the former England skipper went on to say that people don't talk about Babar much as he is not Virat Kohli.
"If this lad was Virat Kohli, everyone would be talking about it but because it is Babar Azam, no one is talking about it," said former England captain Nasser Hussain said while commentating.
"He's young, he's elegant, he's got all the swagger," he added.
Nasser Hussain also went on to say that Babar Azam forced his way into the top five batsmen of the world making it 'Fab Five and no longer Fab Four'.
"They keep going on about the 'Fab Four (Kohli, Australia's Steve Smith, New Zealand's Kane Williamson and England captain Joe Root) -- it's the 'Fab Five' and Babar Azam is in that."
England coach Chris Silverwood stated that, "We know we're up against a very good batsman."
Babar Azam began carefully but after lunch he displayed a series of elegant attacking shots on the way to a 70 ball fifty which included nine fours.
He knocked fast-bowler Jofra Archer down the ground ahead of driving Bess for another boundary to bring up Pakistan's hundred on the scoreboard.
However, Bess should've dismissed Masood for 45 when he took the left hander's outside edge by Jos Buttler dropped the catch.
As the game started after a long delay due to rain, Joe Root was soon bowling his infrequent off-spin together with Bess to try and keep the match after Archer had pitched short to Babar Azam.
But even with two spinners bowling, the match umpires still called a halt at 6:12 pm before the ground was covered with sunshine soon afterwards
Before the Test match, Pakistan skipper Azar Ali had also said similar things about Babar Azam.
The Pakistan skipper, when asked if the England series would see Vavar Azam Join Virat Kohli and Steve Smith in the top bracket of batsmen told "I think he is right up there already.
"People are thinking and talking about it. He is just hungry for runs and I think if he keeps doing that he will be up there for quite a long time.
"His performances have improved massively in Test matches over the last year or so. Firstly, he was performing really well in white-ball cricket and people thought he was only a white-ball player but he took on that challenge and played with a lot of freedom and flair."
Also Read: MS Dhoni showed me real picture of my future in Indian cricket team, says Yuvraj Singh