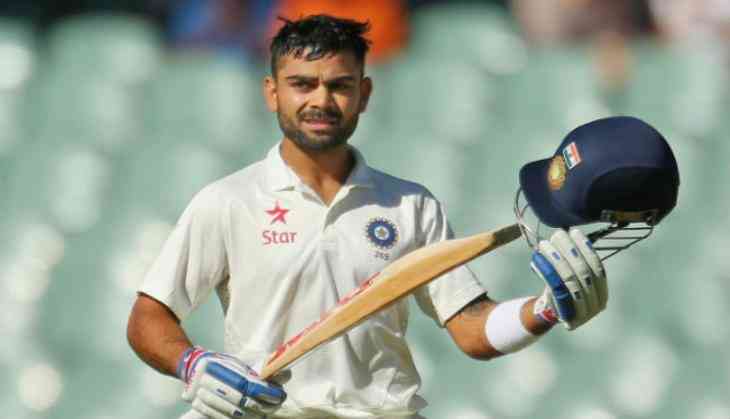 Virat Kohli fumes in anger
A lot of drama was winessed on the ground due to smug on the second day of the last Test match between India and Sri Lanka at the Feroz Shah Kotla Ground in Delhi. Because of which Indian skipper Virat Kohli fumed in anger. However, Virat Kohli was dismissed with a fine innings of 243 runs. But due to the stopping of the match before being out, Kohli had been angry. In the 124th over of the innings, he suddenly left the ground. The game was stopped after a while and Kohli became so upset with this that he threw his bat on the field. After this Virat also declared the innings of the team. Indian players started fielding without wearing a mask.
Kohli scored 6th double century of his career as captain and in third test against Sri Lanka at Feroz Shah Kotla in Delhi. Kohli became only batsman in the world to score six double centuries as captain. He also surpassed the record of West Indian legend Brian Lara. Lara has scored double centuries as captain. On third spot in the list are Australian lagend and former captain Don Bradman. Michael Clarke and Graeme Smith. At the same time, Kohli has equalized Sachin Tendulkar and Virender Sehwag in the case of a double century as a batsman.
Kohli equals Vinod Kambli in this match. Kambli had consistently scored two double hundreds against England and Zimbabwe in 1993. After them, Kohli has consistently scored two double centuries. He played 213 runs in the second Test match played in Nagpur.
On behalf of Team India, Kohli made his 20th century in test cricket on his home ground. Kohli completed his century in 110 balls while playing fast. He hit 14 fours in his innings. Kohli, along with this century, has scored a hat-trick of hundreds in the series against Sri Lanka.
Kohli had earlier scored a century in the fourth innings of the Kolkata Test and the first inning of Nagpur. This was 52st international century of Kohli. He has scored 11 centuries in this calendar year. In addition to the century, Kohli achieved another feat in this Test. He completed his 5000 runs in Test cricket. He is the 11th batsman of India to do this.