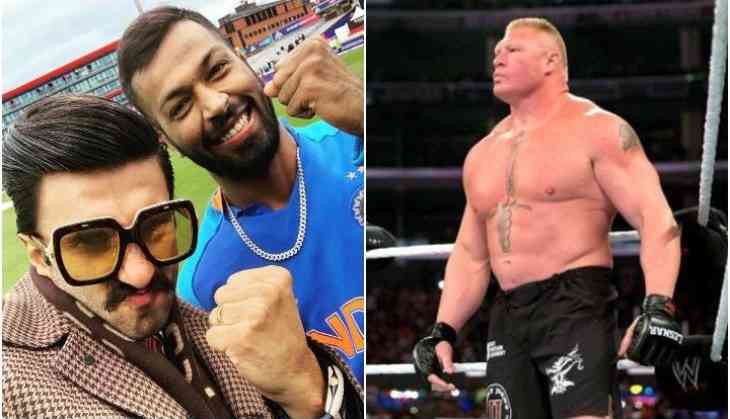 Ranveer Singh is known for his overexcitement everywhere he goes. Recently he visited Old Trafford stadium in Manchester to watch team India play against their arch-rival Pakistan. Ranveer Singh was seen having fun with commentators, former players and even with the Indian team members.
India comfortably defeated Pakistan and Hardik Pandya played a crucial part in it as he took two important wickets at crunch moment. Hardik dismissed Hafeez and clean bowled Shoaib Malik and after the match was over Bollywood actor Ranveer Singh took a picture with the Indian all-rounder and posted it on social media.
Along with the picture, Ranveer also put up a message that read, "Eat, sleep, dominate, repeat." The message was apparently similar to what WWE superstar Brock Lesnar uses. Ranveer Singh immediately got a reply from Lesnar's lawyer Paul Heyman who said that the phrase is his property and he is not allowed to use it. Heyman also sent a notice to the actor for using his copyrighted phrase with a twist. The original phrase is 'Eat, sleep, conquer, repeat' which Heyman uses for Lesnar in WWE.
. @RanveerOfficial
ARE YOU F'N KIDDING ME???????????
1 - It's Eat Sleep CONQUER Repeat
2 - Copyright #YourHumbleAdvocate and @BrockLesnar
3 - I am litigious
4 - EAT SLEEP DEPOSITION REPEAT https://t.co/yppZe129eZ

— Paul Heyman (@HeymanHustle) June 19, 2019
Heyman recently said that Ranveer Singh and Hardik Pandya are playing smart as they are quiet and haven't reacted to the controversy. They might have taken legal advice in the matter and their counsel is doing a good job in keeping them shut. They should be scared of Brock Lesnar as he is the baddest dude on the planet.
Ranveer is currently in England to shoot for his upcoming movie '83 which depicts India's 1983 World Cup triumph.
Also read: Sachin Tendulkar slams MS Dhoni for playing a slow inning against Afghanistan