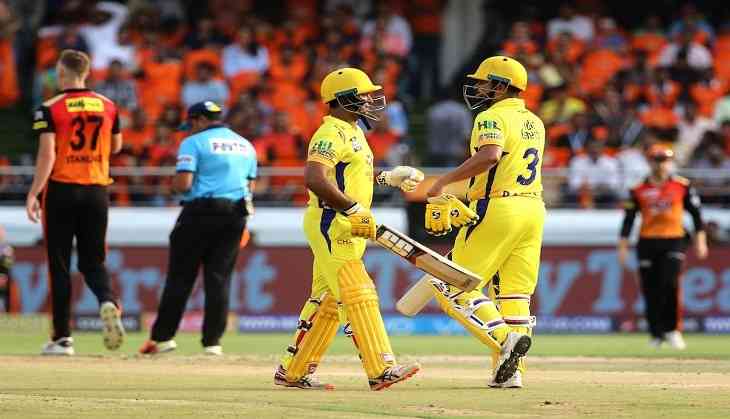 The 20th match of Indian Premier League (IPL) was played between Chennai Super Kings and Sunrisers Hyderabad, the CSK team defeated SRH by four runs. With the help of Deepak Chahar's brilliant bowling performance of (3/15), Chennai won their fourth match in the tournament. Whether on the other hand, Sunrisers Hyderabad got their second defeat in the five matches.
However, the social media is targetting umpire's worst decision over the loss of SRH and even some users suggested that this match was fixed. Actually, the fans are discussing one bowl thrown by Shardul Thakur to Kane Williamson. Thakur throw a full toss bowl to Williamson it was clear no-ball but the umpire allowed and called it a fair delivery.
Also Read - Virender Sehwag's special message for wife on their wedding anniversary will win your hearts
Had umpire given that as 'No ball', @SunRisers would've fancied themselves in a winning position..

One poor umpiring decision changed the course of match 🙄

#SRHvCSK pic.twitter.com/RH8ILAsqCc

— Jameshubert  (@ImJames_) April 22, 2018
Importance of reviewing Umpire's decisions!

Even no balls should be allowed to review!#SRH #SRHvCSK #IPL2018 pic.twitter.com/lK1TLCHcIJ

— ACF (@VishuddikaSri) April 22, 2018
No ball was not given clearly that was no ball was the difference at last.
Please open the batting with Rashid.
Goo orange army we want this ipl trophy

— Ibrahim khan (@Ibrahim07924345) April 22, 2018
By not giving no ball srh lost an extra run and extra ball (free hit). So when you lose by 4runs it does makes the difference.

— shashank (@shashank_2468) April 22, 2018
how the hell that was not a no ball?#CSKvSRH

— Kalim Ullah (@kalimullah92) April 22, 2018
Poor Umpire call..Must be a no ball..
Feel for kane.. pic.twitter.com/h2tZVwwUHC

— KXIP Santhosh (@iamsanthoshss) April 22, 2018
This is a No Ball. Above waist height. Got to be a free hit. Could be critical. #Thakur #Kane #SRHvCSK #IPL

— Aakash Chopra (@cricketaakash) April 22, 2018
Nice script...😏 pic.twitter.com/H668pweBFG

— Arbab Zada Ghafury (@ArbabZadaG) April 22, 2018
Whether in the replay videos it was clearly shown that the bowl was totally a no ball. According to the cricket rules, all the bowls that come up to waist all are no ball and after the announcing the no ball, the batsman gets a free hit. However, it didn't happen in the Sunday's match and SRH lost the match by a minor gap of 4 runs. Now the fans cricket experts are criticizing this decision of umpire and claiming that SRH lost the match due to this worst decision.
Also Read - CSK vs SRH, IPL 2018: Sunrisers Hyderabad will try to get win without Shikhar Dhawan against Chennai Super Kings
Moreover, Ambati Rayadu's brilliant knock of 79 runs assured a clear hit win for Chennai Super Kings.