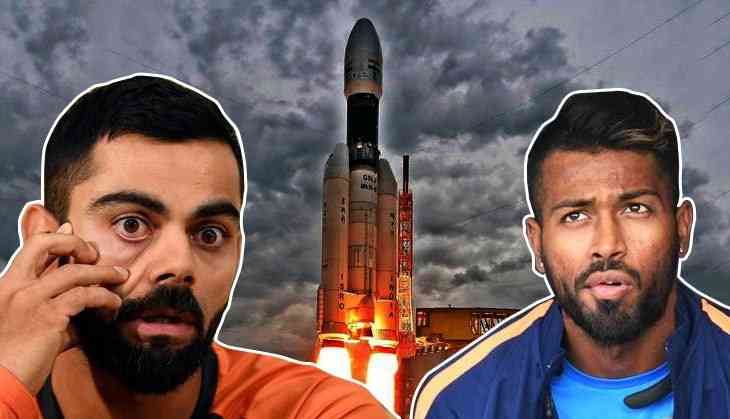 The Indian Space Research Organisation (ISRO) on Saturday lost all communications with its Vikram lander. The lander was just 2.1 kilometres away from the lunar surface when ISTRAC (ISRO's command centre) lost it. People from all walks of life congratulated ISRO for successfully placing the orbiter into the moon's orbit and asked the scientists to not feel disheartened with just one setback.
Prime Minister Narendra Modi said, "We came very close but we need to cover more ground in the times to come. Learning from today will make us stronger and better. The nation is proud of our space programme and scientists. The best is yet to come in our space programme. There are new frontiers to discover and new places to go. India is with you."
Indian cricketers also posted some emotional post on social media. India skipper Virat Kohli wrote, "There's nothing like failure in science, we experiment & we gain. Massive respect for the scientists at #ISRO who worked relentlessly over days & nights. The nation is proud of you, Jai Hind #Chandrayan2."
"As cricketers, we try to knock it out of the park but you @isrohave shown us how you'll keep increasing your boundaries. Keep inspiring! #ProudOfISRO," Indian all-rounder Hardik Pandya said.
"We as a nation are extremely proud of the entire team at @ISRO for the incredible work put together for the mission of #Chandrayaan2. With hope and passion in our hearts let's get up and do it again and never give up!" Yuvraj Singh tweeted.
Also read: Chandrayaan 2: Pakistan minister for science celebrates as ISRO loses contact with Vikram lander
There's nothing like failure in science, we experiment & we gain. Massive respect for the scientists at #ISRO who worked relentlessly over days & nights. The nation is proud of you, Jai Hind! 🇮🇳 #Chandrayan2

— Virat Kohli (@imVkohli) September 7, 2019
We started and we will reach the finish line...Proud of @isro proud of our 🇮🇳 #Chandrayaan2 #ISRO

— Irfan Pathan (@IrfanPathan) September 7, 2019
We as a nation are extremely proud of the entire team at @ISRO for the incredible work put together for the mission of #Chandrayaan2. With hope and passion in our hearts let's get up and do it again and never give up !

— yuvraj singh (@YUVSTRONG12) September 7, 2019
As cricketers, we try to knock it out of the park but you @isro have shown us how you'll keep increasing your boundaries. Keep inspiring! #ProudOfISRO 🇮🇳

— hardik pandya (@hardikpandya7) September 7, 2019
Failure is the first step to success.
Our moon mission didn't pan out and that's alright. We tried our best. What a commendable effort by everyone at #ISRO you make us so, so proud. 🇮🇳#Chandrayaan2

— Suresh Raina🇮🇳 (@ImRaina) September 7, 2019
ऐ चाँद छू लेंगे तुझे भी जल्द ही, अभी ज़रा कुछ दिलों को छू लें!!!
These pictures defines India, defines humanity. Proud of you @narendramodi Sir and Mr K. Sivan @isro #Chandrayaan2Landing #ISRO pic.twitter.com/juxzKYIQMt

— Gautam Gambhir (@GautamGambhir) September 7, 2019