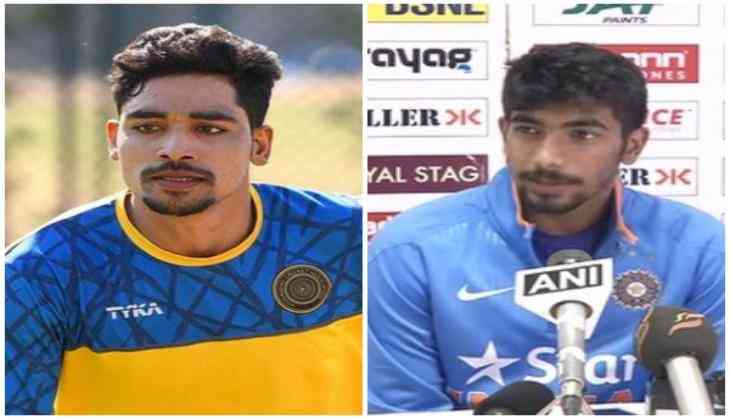 Fast bowler Jasprit Bumrah has defended Mohammed Siraj over his poor international debut in second T20I against New Zealand, saying that the latter will come better than yesterday after learning from his mistakes.
Siraj earned his first Team India call-up and replaced retired pacer Ashish Nehra in the second T20I match, where India succumbed to a 40-run defeat at the hands of New Zealand, here at the Saurashtra Cricket Association in Rajkot.
He got his international cap from Team India coach Ravi Shastri ahead of the match but did not debuted the way he must have thought of.
The Hyderabad pacer ended up conceding 53 runs in his allotted four overs and clinched his maiden international wicket at a high cost.
"It was his first game. His is coming into new team, so it takes time for a bowler to adjust. As a bowler when you get hit, you learn a lot. So, after this experience he will be a better bowler when he comes into the next match," Bumrah said while backing Siraj.
"As a bowler, it was challenging on this wicket. And for a new guy to come in, against such opposition, is difficult. Whenever he plays more, he will be better than before," Bumrah said while addressing the media here.
Bumrah, the top-ranked bowler in T20I, who is also considered as one of the best death bowlers, gave only 23 runs to New Zealand in his four overs.
He was also seen chatting with Siraj during the latter's spell.
"I was just trying to give him confidence, that it's ok, every bowler goes for runs, you get hit. But this is how you'll learn and you'll come back," Bumrah said for Hyderabad pacer Siraj.
-ANI