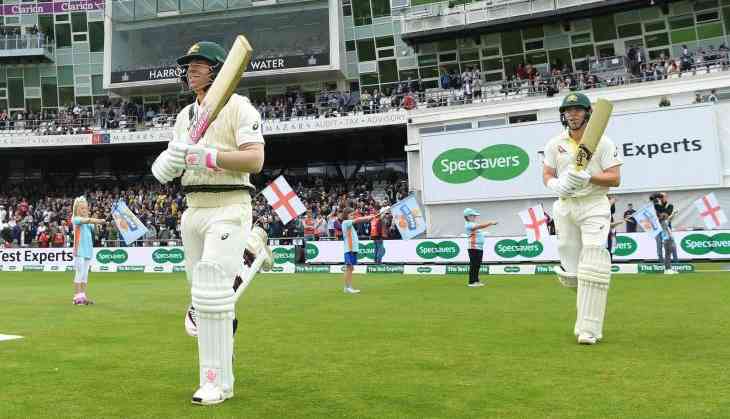 The Aussies may have won the Ashes in succession, but there are still alot of issues to look into out of Australia's Ashes campaign.
Steve Smith played the greatest single series by a batsman with Matthew Wade and Marnus Labuschagne consolidating their place in the playing XI and the bowling unit were brilliant. But the main feebleness in the team were the openers.
After Marcus Harris was out for 9 runs on the morning of the day four at the Oval, it earmarked the 14th time in the series that one of Australia's opening batsman made a single digit score.
In order to put that into context, the previous world record was 13 times set by England and South Africa in 1905-06.
AlsoRead:http://www.catchnews.com/cricket-news/ravi-shastri-warns-rishabh-pants-urges-him-to-improve-his-shot-selection-172825.html
ALL-TIME TEST RECORD ALERT:
With Harris' dismissal today, Australia's openers have amassed 14 single-figure scores this series - a record for a team in a Test series.
Previously: 13, by England in SA in 1905-06. Four teams have had 12. Previous Ashes record: 11. #Ashes2019

— Andy Zaltzman (@ZaltzCricket) September 15, 2019
Fewest runs opening the batting in 10+ inns in a Test series:
95 (avg 9.50) DA Warner Aus v Eng 2019
136 (avg 13.60) JW D'Arcy NZ v Eng 1958
164 (avg 16.40) PH Punjabi Ind v Pak 1954/55#bbccricket

— Andrew Samson (@AWSStats) September 15, 2019
AlsoRead:http://www.catchnews.com/cricket-news/kapil-dev-to-be-appointed-as-first-chancellor-of-haryana-sports-university-172816.html
David Warner too attained the record of being out for the most single digit score by an opener in one series. His 95 runs at an average of 9.50 was also lowest in the series.
Warners only notable innings was of 61 run in the third Test at Headingley.
Warner was dismissed seven times by Stuart Broad and three times by Jofra Archer. Harris, who has cumulated over 6,400 Test runs in 79 games, has never knocked a hundred in three overseas Ashes Test series, this was the least scoring series for the batsman after making his debut in 2011 against New Zealand.
His 95 runs with the bat toppled the previous worst by an Australian top six batsmen since Peter Toohey in the 1978-79 Ashes series.
Peter Toohey was dismissed for less than 10 runs in seven occasions but did manage to play a knock of 81 notout to add to his 32 and 20 to increase his average to 16.5 in five Test series.
The most recent case was Kim Hughes in 1984 when he had six single digit score against the West Indies which culminated to his resignation from the captaincy.