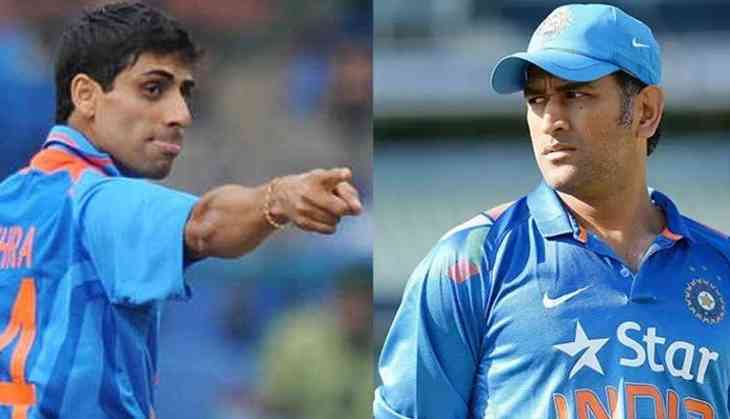 There are numerous videos of cricketers sledging one another on the internet. Among them is a popular clip of former pacer Ashish Nehra hurling abuses at MS Dhoni for dropping a catch in an ODI match against arch-foes Pakistan.
Ashish Nehra called to mind the incident from the Ahmedabad ODI when he just snapped at Dhoni, who was in his first year of international cricket at the time but later went on to become India's most successful skipper.
The incident happened in the 4th over of Pakistan's innings when Shahid Afridi, edged a delivery outside off-stump and the ball went past wicketkeeper Dhoni and Rahul Dravid at first slip.
A furious Ashish Nehra could be seen hurling abuses at MS Dhoni while also letting out his frustration on Rahul Dravid. Nehra blabbed out about the incident in a recent interview in which he said that he was not proud of his conduct.
Also Read: Yuvraj Singh comes under severe criticism for donating to Shahid Afridi Foundation to fight coronavirus
"I distinctly remember that match in Visakhapatnam. It was the second ODI of that series. In a video that went viral, I am seen hurling abuses at MS after an edge off Shahid Afridi's bat goes between Dhoni and Rahul Dravid at first slip.
"People assume it's from the Vizag match, but that incident is from the fourth ODI in Ahmedabad. However, I must admit I am not proud of my behaviour," Nehra told Times of India.
"I had been hit for six by Afridi off just the previous ball. There was the usual pressure of an India-Pakistan match. Suddenly, I created a chance and it was missed.
"I lost my cool. That wasn't the only incident where a player has lost his cool in that manner. Both Dravid and Dhoni were fine with me after the game but that doesn't justify my behaviour," Nehra added.
Nehra called it a day from cricket on 1st November, 2017 after featuring in 17 Tests, 120 ODIs and 27 T20Is for the national side in which he scalped 77, 141 and 28 wickets respectively.
MS Dhoni, one of the greatest skipper that India has ever had, only features in limited overs cricket. He has not been seen on the field since India's semi-final exit from the World Cup against New Zealand last year.
Also Read: Virat Kohli, Rohit Sharma tweets in support of PM Modi's 'light a candle' initiative to mark India's fight against Covid-19