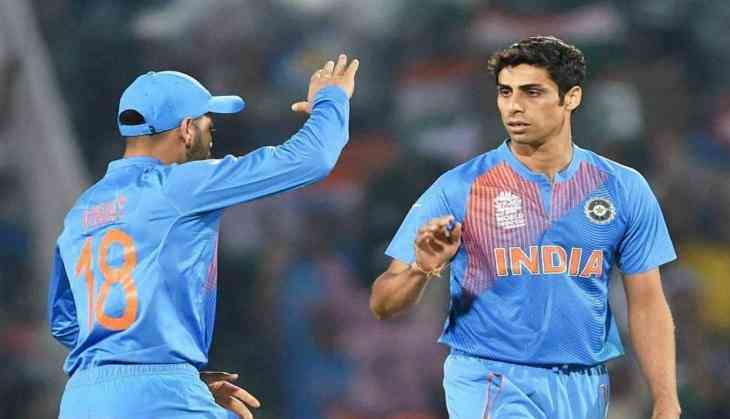 As Indian veteran pacer Ashish Nehra bid adieu to the 'game of fame' cricket on his home turf Feroz Shah Kotla in Delhi, his fellow cricketers including Indian skipper Virat Kohli and former explosive batsman Virender Sehwag given a fitting farewell to him.
After team India's exciting victory over New Zealand, team's officials and player has thrown a party.
#ViratKohli at Ashish Nehra's farewell party. #ThankYouAshishNehra pic.twitter.com/AU3vgdWvsX

— Captains (@dhonikohli_fc) November 2, 2017
Interestingly, Kohli and Sehwag have been spotted painting Nehra's face with cake in the video that had gone viral.
Nehra's illustrious career came to an end after 18 years which was full of injuries and challenges but without any controversy.
Indian skipper Virat Kohli after the match against New Zealand paid his tribute to Indian speedster Ashish Nehra at Feroz Shah Kotla in New Delhi saying, "To have played 19 years is very hard for a fast bowler. I know how professional he's been and how hard he's worked. He deserved this kind of a farewell with the crowd cheering him. He can now spend time with his family, he's got a beautiful family. We'll stay in touch but we'll miss him and I wish him all the best."
#ViratKohli at #AshishNehra's farewell party. ✌ pic.twitter.com/kuchcYZtFQ

— Captains (@dhonikohli_fc) November 2, 2017
After lKohli, Indian experienced batsman Yuvraj Singh took no time in expressing his love for the Delhi pacer.
"Resilience of Mr Ashish Nehra
Ashish Nehra – The first thing that I can say about my buddy Ashu is that he is an extremely honest man...woh dil ka bahut saaf aadmi hai. Perhaps only a holy book is more honest than him. I know a few jaws are dropping and a many more eyes are popping out after reading this. At times we all can be judgemental about people and life. Public figures even more so and are judged on various parameters. In this case Ashu was too straightforward for some people and suffered because of that. But to me he was always Ashu or Nehra ji, a fun guy who was honest and never let his team down.
I first met him in my under-19 days and he had got picked for the Indian team. He was sharing room with Harbhajan Singh. I had gone to see Bhajji and noticed this tall, lean guy who just couldn't stay still. He was like a cat on an extremely hot tin roof. He'd be sitting still one moment and all of a sudden break into a stretch or twitch his face or just roll his eyes. I found it extremely funny and thought may be someone has put ants in his pants. Later on when we played for India I realised that is the way Ashu is – someone who could not stay still. As for the ants, their hard work quotient was in his game which I will come to a little later.
Sourav Ganguly gave Ashu the nickname Popat as he talked a lot. I mean he can talk even under water! Plus he is hilarious. For me he doesn't need to speak, there is something about his body language that is so funny. Agar aap Ashish Nehra k saath ho to aap ka din kharaab nahin jaa sakta...NO CHANCE. Wo banda aap ko hassa-hassa k gira dega. I have never told him this but secretly I have drawn inspiration from him. I used to think that if this guy at the age of 38, with all his injuries and surgeries can bowl fast then why can't I bat at 36. Frankly this is what is keeping me going even today.
Ashu has had 11 surgeries – elbow, hip, ankle, finger, both knees just to name a few. But what kept him going were his hard work and the burning desire to do well. I remember during the 2003 World Cup he badly twisted his ankle. There was no way he could have played the next game against England. But Nehra ji kept pestering everyone that he wants to play. By the end of it all even the hotel attendants in Durban knew how keen Ashu was! Agley 72 hours us nay 30-40 baar apney ankle ki icing karee, taping karee, pain-killers khayey and rather miraculously was ready to play. The outside world thought he didn't care but we knew how much he did. Six wickets for 23 runs and India beat England by 82 runs.
Ashu is a team-man to the core. In 2011 World Cup semi-final against Pakistan he bowled an outstanding spell but unfortunately got injured due to which he had to miss the finals. I know a lot of players would have got into self-pity, brooding mode but not him. Woh hassta rehtaa thaa and was available to help everyone. He was with us in Mumbai for finals against Sri Lanka and would organise drinks, towels and even offer advise wherever it was required. For an outsider these may seem irrelevant inputs but when you play a team sport and you have a senior member effortlessly easing himself into the background roles it is extremely heartening.
He is blessed with a great family too. He has two amazing kids – son Aarush and daughter Aaraina. Aarush bowls too but his action is better than his dad's (thank Heavens for that, LoL). Ashu has never been humble about his batting. I have often laughed my lungs out when he has shamelessly used words like 'legendary' for his batting skills. Not only that, he often claimed that he'd have played till the age of 45 if he were a batsman! But who knows, it is his farewell game, in his hometown Delhi, the world is watching, may be Ashu could end up hitting the winning runs. I am sure I am not the only one praying for a perfect ending to his script.
It is an emotional time for me and I am sure for him and his family too. I am grateful Cricket has given me a true friend whom I'll always cherish."