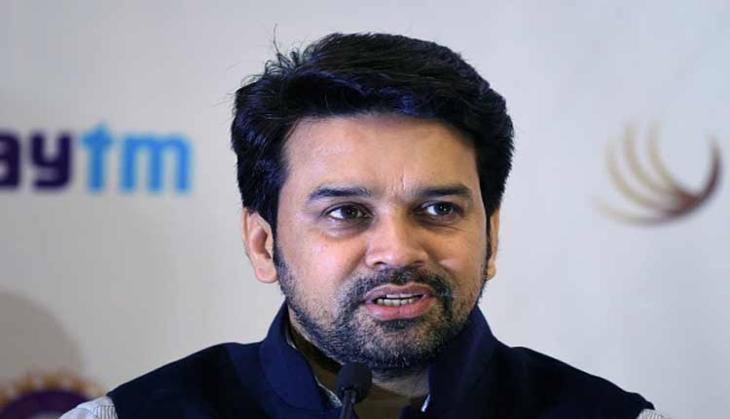 Anurag Thakur is set to be unanimously elected Board of Control for Cricket in India's (BCCI) youngest president in the Board's Special General Meeting (SGM) in Mumbai on 22 May, replacing Shashank Manohar, who quit the position to take up ICC chief's job.
Thakur, who resigned as the secretary of the Board, got the signatures of all six east zone units in his BCCI presidential nomination form, as he completed the formalities in presence of former India captain and CAB president Sourav Ganguly in Mumbai.
Also read: I wasn't capable of implementing Lodha Panel reforms, says Shashank Manohar
Just to show solidarity, all the six east units, Cricket Association of Bengal, Assam CA, Tripura CA, NCC and Jharkhand SCA signed his nomination papers even though the rules require only one unit to nominate the name for presidential candidate.
Thakur filed his nomination in the presence of Ganguly, BCCI's GM (Game Development) Ratnakar Shetty and probable secretary Ajay Shirke.
Tough times for BCCI
The 41-year-old, who is also a BJP MP in Lok Sabha, will be taking over the reins of the embattled Board in rather tough times as the BCCI is facing heat from the Supreme Court to implement the Justice RM Lodha Committee's recommendations for sweeping reforms.
Manohar's exit from the top post barely seven months into his tenure has necessitated the election of the new chief of the world's richest and most powerful cricket body.
He was elected as ICC's first independent chairman on May 12.
Shirke favourite to be secretary
Once Thakur is elected unopposed, it would be his prerogative to pick his replacement for the secretary's position and Maharashtra Cricket Association chief and business magnate Shirke is all set to take that position.
The SGM will be followed by the working committee meeting of the Board. "Agenda for the meeting is a normal one," sources said.