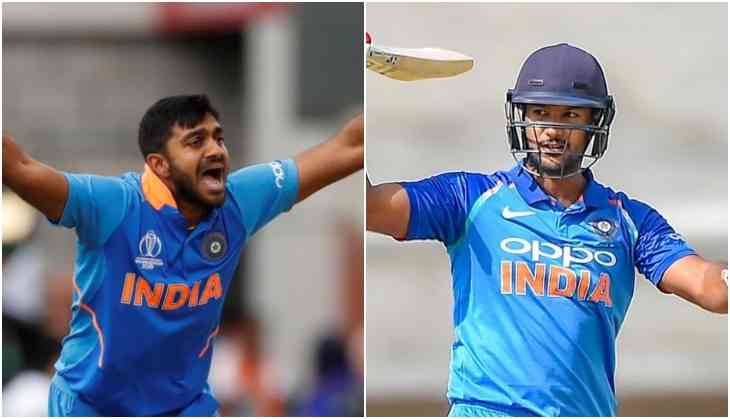 It looks like that team India is going to play against injuries in the World Cup 2019 mostly, according to the latest updates, all-rounder Vijay Shankar has been ruled out of World Cup due to toe injury. The cricketer didn't even play the match against England, and newly added Rishabh Pant played at 4th position.
Earlier, team India's opener Shikhar Dhawan was injured his thumb in the match against Australia. Later the young lad Rishabh Pant replaced him in the team India's squad. Now Vijay Shankar has been injured and the incident took place in net sessions when he was facing Jasprit Bumrah. According to BCCI officials, the all-rounder Vijay Shankar was injured and now he won't be a part of the team.
In a blow to the #TeamIndia going into the business end, all-rounder #VijayShankar has been ruled out of the #WorldCup2019 with a toe injury. While the blow at the nets off #JaspritBumrah hadn't looked very serious to start with, it looks to have been aggravated.

Photo: IANS pic.twitter.com/B7Ct04MyFa

— IANS Tweets (@ians_india) July 1, 2019
"Vijay got hit on the toe by a Jasprit Bumrah delivery once again. His situation is not great and he won't be able to take part in the tournament. He is going back home," a senior BCCI official revealed.
According to the media sources, the young lad opening batsman Mayank Agarwal is likely to join team India in England as Vijay Shankar's replacement. Currently, team India is facing trouble for opening and 4th position batsmen, as since Shikhar Dhawan was injured KL Rahul has totally failed to perform in the opening. While now Rishabh Pant has finally made the score at the 4th position against England.
Sources: Vijay Shankar ruled out from #CWC19 due to a toe injury; is likely to be replaced by Mayank Agarwal. (File pic of Vijay Shankar) pic.twitter.com/DtQejflOiG

— ANI (@ANI) July 1, 2019
Even before the match against England, Virat Kohli added Rishabh Pant in the team by saying, "Vijay Shankar has a toe niggle, Rishabh Pant is in. He brings in a lot of fearlessness. Once he gets to 20, then he's unstoppable."
Also Read - Pakistani fans trolls team India after defeating against England, says 'they deliberately lost'