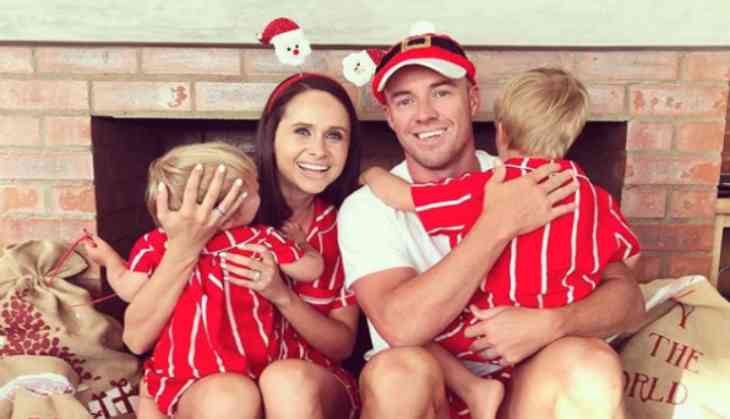 Former South Africa player AB de Villiers shocked the world when he announced his retirement from international cricket in May 2018. His retirement left the cricketing world with an open mouth as it was just a year before the World Cup 2019 in England and Wales.
AB de Villiers is one of the few cricketers who enjoy a fanbase all over the world and it was obvious that his retirement would upset everyone everywhere. When AB de Villiers' wife Danielle posted a beautiful picture on Instagram with a message for 'Mr 360' got a sick reply from an Indian fan, she decided to destroy him savagely.
Danielle's message for ABD was, "I hope you don't mind that I put down in words… how wonderful life is now that you're in the world. Much needed the afternoon off with my one and only, confidante and bestie." The fan commented, "Ya but let's be honest. He rather be at the World Cup. You ruined his life, and you broke so many hearts around the world. Kbye."
Danielle replied, "Seeing that you're full of wisdom and maturity, yes, he probably would rather be there but you already know everything so I don't need to elaborate. One thing though, tread carefully when you comment so ridiculously on the sanctity of marriage. Consider this a friendly warning to never grace us with pathetic and uninformed opinion ever again. Kbye."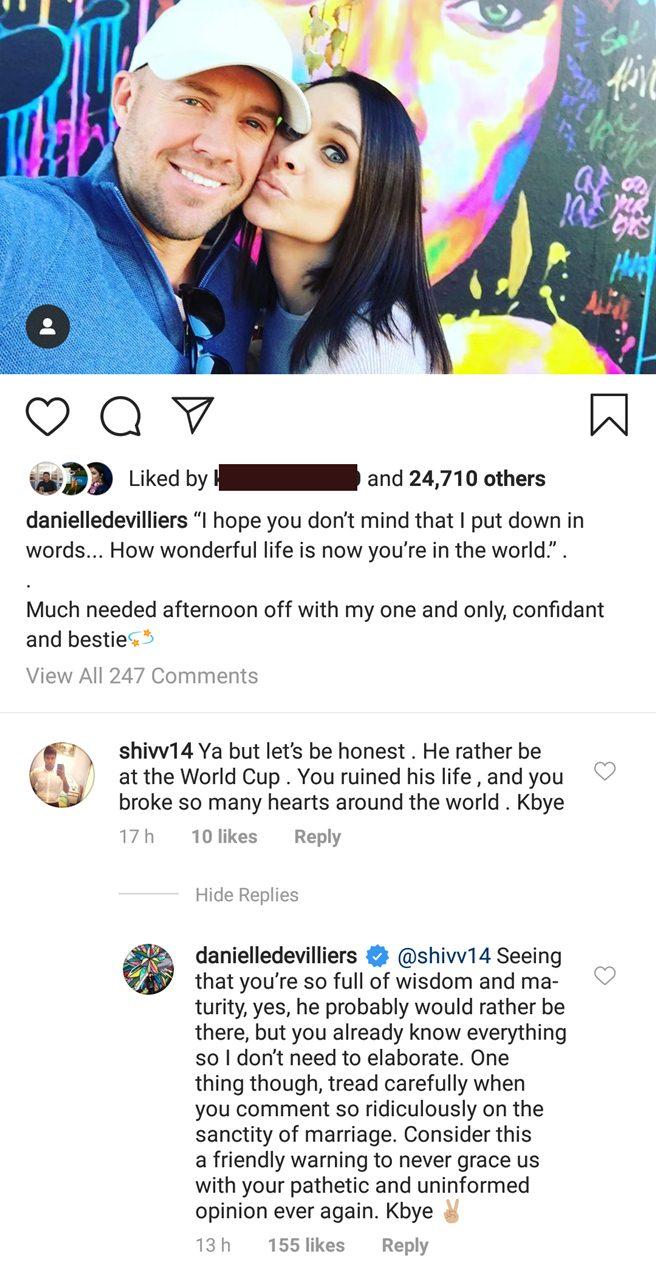 Screengrab of Danielle's reply
South Africa is not having a great World Cup as they have just won a single match against Afghanistan. Fans clamoured for return of ABD and it was later revealed that de Villiers had in fact offered to return but it was rejected by the selection committee.
Also read: Indian fan wins Pakistan's heart after spotted cheering for men in green; see pics