Rohan Raj
| Updated on: 13 February 2017, 3:32 IST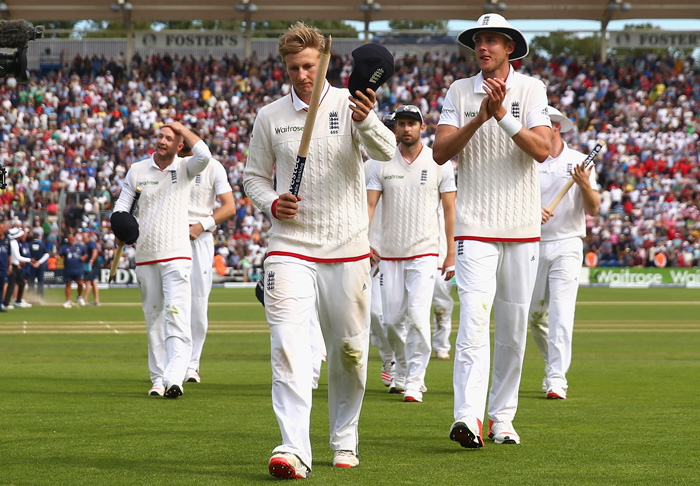 The ongoing Ashes series continues to throw up surprises and imponderables as arch-rivals England and Australia ready their battalions to embark on the five-day tussle in the fourth Test at Trent Bridge starting from 6 August.
Trailing 1-2 in the five-match series, Australia desperately need to play as a unit to threaten the spirited England brigade who'll be looking to deliver the final blow and retain the Ashes.
The eight-wicket loss at Edgbaston in just three days has sent the tourists in a panic mode, leading to significant changes for the upcoming Test. The middle-order frailties and bowlers' inability to take wickets at regular intervals are some of the many problem areas for Australia.
The form of Australian captain Michael Clarke and their star batsman Steven Smith turned out to be a nightmare for the visitors in the recent Test. But, with their backs against the wall and the notable absence of James Anderson, the Australian brigade is expected to come out all guns blazing when they take the field at Trent Bridge tomorrow.
Here's a look at the some talking points ahead of the fourth Test at Trent Bridge:
Clarke needs to prove his mettle
Blasting critics for questioning his hunger to play for his country, Australian skipper Michael Clarke said that the desire to play is still burning strongly inside him. However, his statistics in the series so far speak otherwise.
Clarke has a meagre Ashes series total of 94 runs in six innings at a shambolic average of under 19. The 34-year-old wouldn't have noticed but his career average has dipped below 50 for the first time since November 2012. The statistics suggest a terminal decline in his form with just two fifties in his last 28 innings.
For a man who has scored 28 Test centuries, Clarke's dismal performances on enemy territory is clearly hurting Australia. A shift to the No. 5 slot, where he has 20 hundreds to the five he has at four, in the batting order seems to be a possible solution for Clarke who'll be under immense pressure at Trent Bridge.
England will miss Anderson at Trent Bridge
England's notable performances against Australia in the ongoing Ashes series have come on the back of some majestic bowling spells by their frontline bowler James Anderson. The 33-year-old seamer has claimed 10 wickets in the series so far to bamboozle the Australian batsmen. However, going into the fourth Test at Trent Bridge, England will have to make amends in the absence of Anderson who was ruled out due to a side strain.
Trent Bridge, ideal for swing bowlers, has been a hunting ground for Anderson in the recent years. Anderson has claimed a 10-wicket haul on two occasions on this ground. In the 2013 Ashes series, Trent Bridge was also witness to Anderson's lionhearted performance of two five-wicket hauls in each innings which secured England's 14-run win.
In the eight matches at Trent Bridge, Anderson has taken 53 wickets at an average of 19.24, and so his loss for the fourth Test will be sorely felt by England.
Time to give Shaun Marsh another go
With Michael Clarke unhappy at No. 4 and Steven Smith struggling at the No. 3 slot, the Australian batting line-up is all but in order. May be it's time to give Shaun Marsh another chance, especially when Adam Voges has been struggling to negate the English conditions.
Marsh's inclusion will not only allow Clarke to shift down the order to his preferred No. 5 position, but also mean Australia's star-performer Smith can breathe easy at the No. 4 slot. Marsh was unlucky to be dropped for the Ashes opener following his hundred against Kent in Australia's first tour game.
"He's knocking the door down hard, isn't he. He was very good in the West Indies for us. He's starting to work it out as you do when you get to that sort of age. You start to be in the prime and really understand your game well. We'll have to work out if we can fit him in or not," Australian coach Darren Lehmann said.
Peter Siddle should replace Josh Hazlewood
Australia's fast-bowling artillery had made them pre-season favourites but none of the seamers have bowled as well as their skipper Michael Clarke would have hoped. Mitchell Starc has produced the odd gem of a delivery, notably the one that cleaned up Alastair Cook in the second innings of the 3rd Test, but the left-arm bowler has often been wayward.
On the other hand, Josh Hazlewood might have taken wickets (14) in the ongoing series but he has proved far too expensive for Australia's liking. While Starc's position seems comparatively safer, it seems that Hazlewood might have to make way for the old workhorse Peter Siddle for the upcoming Test.
Siddle took eight wickets in his previous Test appearance at Trent Bridge, where he called home earlier this season and where he taken 24 wickets at 24.43 in five matches since 2014. But it is his proficiency at drying up scoring, rather than his wicket-taking ability, which could see him preferred to Hazlewood.
Key Ashes moments at Trent Bridge
Shane Warne's six-wicket haul: Trailing 0-3 in the series, Alex Tudor's five-wicket haul in the first innings placed England in a strong position after a bright start with the bat. England were cruising at 115/2 when spin maestro Shane Warne struck to rattle the hosts. After dismissing Marcus Trescothick earlier in the innings, Warne dismissed Michael Atherton, Alec Stewart and Mark Ramprakash within his next nine balls. Tudor and Craig White became the other victims of Warne whose six-wicket haul ensured Australia had a simple 158-run target to chase down to seal the series and regain the Ashes in 2001.
Ashton Agar's sensational debut: On debut, aged 19 and in the first Ashes Test at Trent Bridge in 2013, Ashton Agar struck a sensational 98 to register the highest score ever by a No. 11. Coming in to bat with Australia reeling at 117/9, Agar put on 163 runs for the last wicket with the late Phillip Hughes to help his side build a 65-run lead in the first innings. Agar also took two wickets at Trent Bridge and became the first teenage spinner to take a Test wicket for Australia.
James Anderson's review: Despite Ashton Agar's knock, England managed to post a total of 310 runs after Ian Bell's hundred and a controversial 65-run knock by Stuart Broad - who didn't walk after getting a thick outside edge off Agar to slip.
Against popular perception, Australia's last-wicket pair took the tourists to within 15 runs of victory when James Anderson forced an inside edge off Brad Haddin's bat through to Matt prior behind the stumps. Umpire Aleem Dar wasn't convinced, nor were the majority of the England fielders who offered up a half-hearted appeal and belatedly reviewed the decision. But the third umpire confirmed the edge and Anderson led a jubilant England charge in the outfield.