Global Business Summit: Amid land acquisition unrest, Mamata sells Bengal to investors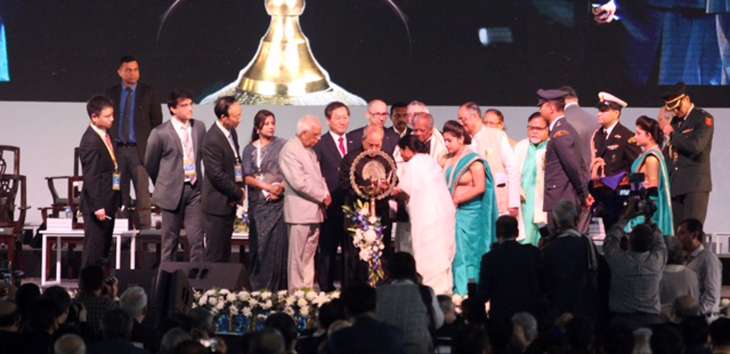 Sidestepping the simmering discontent against her government's policies - the latest eruption of which occurred in Bhangor and took two lives - Chief Minister Mamata Banerjee Friday sought to sell Bengal as an investment destination.
"You consider us brothers and sisters and come and invest here. We are all a family in Bengal," she told business leaders and investors gathered for the Bengal Global Business Summit 2017 at Milan Mela, Kolkata.
Mamata also stressed Bengal's strategic location as the gateway to the untapped markets of India's Northeast and Southeast Asia.
Also Read: Reality check: Bengal hasn't got even 1% of investment promised
The global summit, now in its third edition, was opened by President Pranab Mukherjee who, in his address, echoed Mamata's pitch to the gathering. "West Bengal has political stability which is conducive for investment," he said.
Mukherjee then extolled the virtues of cooperative federalism, insisting that it was imperative for a strong, prosperous India. "When I got the invitation I thought what should I do at a state-level conference. But then I thought that India is a conglomeration of states and India's strength lies in cooperative federalism."
Incidentally, Mamata is engaged in a running battle with the Narendra Modi regime over its "attempts to destroy cooperative federalism".
According to the state government, investors from 29 nations, including the US, Russia, China, South Korea, Norway, Germany, Poland, UAE, Malaysia, Bangladesh and Singapore are participating in the event. Some of the biggest corporate names in Indian are also in attendance.
Unlike in the past, however, political bigwigs gave the summit a miss. Last year's edition was attended by, among others, Arun Jaitley, Arvind Kejriwal, and even the prime minister of Bhutan. Jaitley, the central finance minister, chose not to come this year despite an invitation.
Also Read: Losing the plot: what Bhangor farmers' stir says about Mamata's land policy
On the first day of the two-day summit, Rakesh Bharti Mittal of Bharti Enterprises announced investment of Rs 3,000-4,000 over the next three years. Sanjiv Goenka of RP-Sanjiv Goenka Group promised to invest Rs 10,000 crore over the coming few years. Kishore Biyani of Future Group committed to setting up an apparel manufacturing hub in Kolkata.
Although the summit has another day to go, the investments promised so far are nowhere near that of the previous editions. According to the government, the 2015 summit fetched investment proposals worth Rs 2.43 lakh crore and that in 2016 yielded promises to the tune of over Rs 2.5 lakh crore.
Outside the summit venue, Left Front supporters led by CPM leaders Sujan Chakraborty and Nepal Bhattacharya held protests against the killing of two villagers in Bhangor. The protestors briefly scuffled with the police, before dispersing peacefully.
The CPM lashed out at the chief minister for holding a business summit while villagers were being killed for opposing her government's policies.
Also Read: Amartya Sen report: 80% Bengal Muslims live on less than Rs 5,000 a month