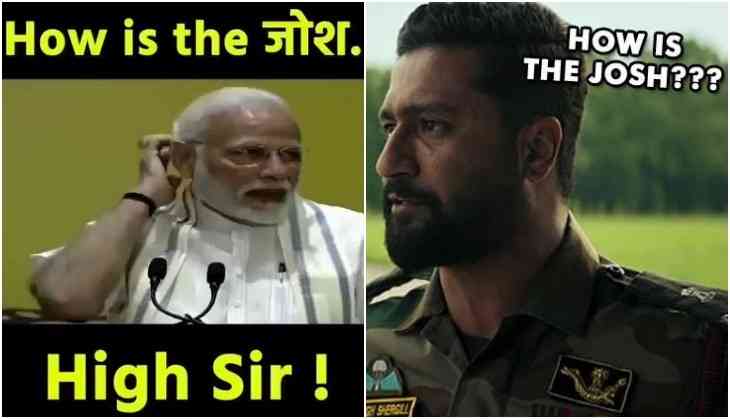 The film Uri - The Surgical Strike has really turned out a nationwide blockbuster at the box office, and especially its dialogue 'How's the josh?'. The dialogue has even praised by the Indian government, and from PM Modi to defence minister Nirmala Sitharaman has been seen saying this hit dialogue. The film is actually based on a real incident a surgical strike took place in POK during September 2016.
Now the director Aditya Dhar has revealed that how the dialogue and phrase 'How's The Josh?' became a part of the film. Aditya told PTI, "I had some friends from Defence background, so with them, I used to go to a lot of Army clubs. There was one in Delhi where we used to go for Christmas or New Year parties. There used to be a retired Brigadier who would line up all the kids in front of him and have chocolate in his hand."
"He would say 'How's the josh?' and we were to respond with 'high sir!' The kid who was the loudest got the chocolate. Being a foodie, I used to be the loudest and always got the chocolate," Aditya added to PTI.
"I have heard very few Army people use the phrase. It is not something which is used extensively. What I did was I used the line in the right way in the film and now it has taken off to another level. The line was there right from the first draft. As a writer, we write according to our personal experiences, our memories. It is an amalgamation of everything. I had the line with me in my memory and this was the perfect film for it to come out." " further added.
Here Aditya also revealed that he was earlier supposed to make a film Raat Baaki with Fawad Khan and Katrina Kaif, but the film shelved as Fawad Khan had to return Pakistan back after Pakistani artists were banned in India. After that, the director focused his all mind to write a film on the same situation that is completely from what he planned.
Also Read - Farah Khan to direct an action-comedy film under Rohit Shetty's production house; read details inside