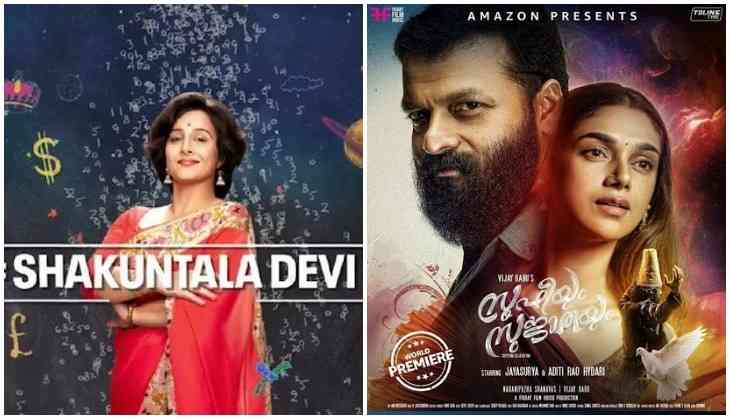 Shakuntala Devi-Sufiyum Sujatayum
Since filmmakers have sought to release their films directly on OTT platforms, a war has started between the theatres and film industry. They have expressed their displeasure and disappointment over this move by the producers. Reacting on the same Producers Guild of India stated that due to the lockdown the industry is going through a major loss and they just can't wait for reopening of theatres. They further assured that as soon as the theatres will open again they will resort to the traditional way of releasing films.
After seeing a cold war going on between the film industry and the theatres, film trade analysts are of opinion that films directly releasing on OTT platforms will not affect the box-office.
Speaking to the tabloid he stated that if the film is small scale production, it wouldn't affect the box office because of the lesser audience pull. While the big-budget films with popular actors will wait for the theatres to get open amid the coronavirus crisis.
Also Read: Vicky Kaushal Birthday: From Masaan to winning National Award; here's actor's road to success
Elaborating further trade analyst Akshaye Rathi said that it's the interest of the stars that the theatres, as a medium, is kept alive. "Salman Khan or Akshay Kumar or Ajay Devgn or Rajinikanth or Ajith or Vijay, they won't be half the stars in absence of the cinema hall euphoria."
He continued that even producers and exhibitors will not like to mess up their partnership that has existed for over 100 years. Rathi goes on to compare the films releasing on OTT platform to the time when buying the satellite rights for a movie was a rage.
"In between 2008-12, satellite rights had seen a similar wave that OTT is seeing right now. TV channels were paying a whopping amount to buy a film's satellite right. Later, they realised they are overpaying and aren't able to make profits from it. This led to an unofficial and rational cartel, and again the revenue earnings for a film shifted back to the theatre. It is in the interest of producers to keep the exhibition sector rolling because as of today, the box office makes for 65% of a film's income."
Also Read: Producers Guild backlash INOX for slamming directors on releasing films on Netflix, Amazon Prime, DisneyPlusHostar
Well, even the exhibitors which comprise of both organized and unorganized sectors with the multiplexes and single screens in metro cities, tier one and tier two towns must have realized that they are nothing without the film industry. Whereas even the producers and filmmakers know that they will collapse without the theatres in cities.
Well, its true films like Sooryavanshi, Radhe, 83 and others are waiting for the theatres to reopen as filmmakers have put their all to make these movies and by releasing them on OTT they don't want to take risk of not earning profits.
Meanwhile, by now many films have been announced that are going directly on OTT platforms including Laxmmi Bomb on Disney+Hotstar, Ghoomketu on Zee5 while around 6 films will release on Amazon Prime Video namely Gulabo Sitabo, Shakuntala Devi, Ponmagal Vandhal, Penguin, Sufiyum Sujatayum, Law and French Biryani. The movies will premier over the next three months and will be available in 200 countries and territories worldwide.
Also Read: When one song on Madhuri Dixit snatched National Award from director Subhash Ghai